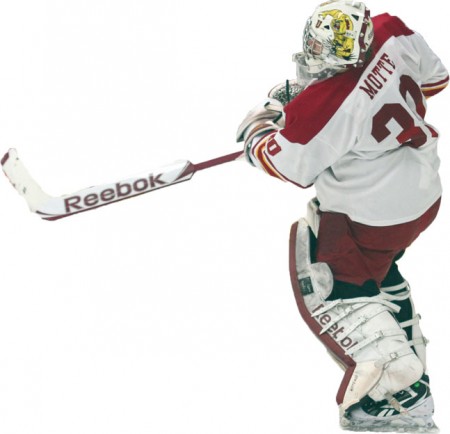 As the NHL draft draws closer, teams are absolutely salivating at some of the prospects who will be eligible for the 2013 NHL Entry Draft.
Sure, there are plenty of guys that can put the puck in the net, but the NHL may have never seen this many players who can keep it out in college hockey.
To qualify for 30th place in save percentage in the country, a goaltender would have to save nearly 92 percent of the shots he faces.
For comparison's sake, the NHL's 30th-place goalie, Detroit Red Wings' own Jimmy Howard, saves exactly 90 percent of the shots he's faced.
The goaltending competition has never been better in college hockey, which is evidenced by Ferris State's goaltender, CJ Motte. Motte is in his sophomore season, and his first as the number one goalie on the team.
"Well, when CJ plays, he is extremely calm the entire game," junior left wing Garret Thompson said. "He doesn't take shortcuts, which shows a lot of character."
Only two goaltenders in the entire country have played more minutes than him. Air Force's Jason Torf and Western Michigan's Frank Slubowski are those two. Motte has a better save percentage than both of them, currently tied for 19th with a .927 mark.
There have been seasons in the NHL when a goalie with a .927 save percentage is in contention for the Vezina Goaltender of the Year Award.
Motte is having a season comparable to the final season of former Michigan State goaltender and NHL All-Star Ryan Miller of the Buffalo Sabres. In his final season with the Spartans, Miller posted a .936 save percentage in 40 games.
It speaks to the level of consistency Motte has shown against his level of competition. In his first season, he has been one of the most solid backstops in the country, and has two more seasons of eligibility to improve upon these lofty numbers.
"I think at some point in his career he will sign with an NHL organization," Ferris Hockey head coach Bob Daniels said. "Hopefully he'll get a chance to get called up and play somewhere."
In CCHA play alone Motte is the minutes leader, third with a .934 save percentage and first in total saves.
The goaltenders in the CCHA alone are so talented in comparison to the rest of their respective teams that last -place Michigan State's Jake Hildebrand has managed to stop pucks at a .931 clip, despite his 6-12-1 record.
"Save percentage is deceiving at times," Daniels said. "While CJ's is good, the quality of chances he's faced have been better because he has a young defense in front of him. He provides teachable moments in that when they make a mistake, I can say, 'Well, you made a mistake, but CJ made a stop, so don't do it again.'"
A mark of a team with a long playoff run ahead is hot goaltending. This year, it may be whose putting the puck in the net, because all of the goalies are just plain on fire.