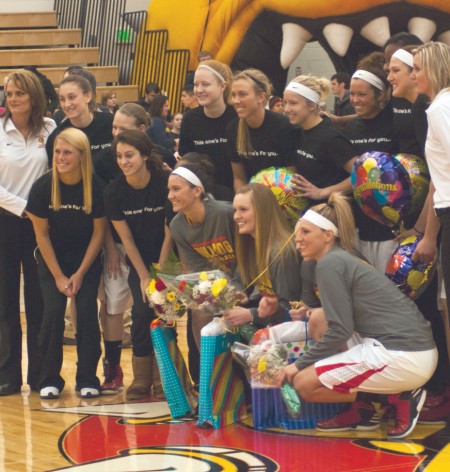 Ferris said goodbye to its seniors with a loss at home in the last game the Bulldogs will host this season.
A commemorative scene where athletes shared memories was displayed Feb. 23, while Ferris' four graduating seniors– guard Kylie Muntz, center Felicia Standley, forward Caitlin Carmody and center Katy Fox–stood at mid-court with their families as the entire home crowd stood and cheered for them prior to tip-off against Saginaw Valley State University.
The Bulldogs (13-11) had an 80-61 loss at Wayne State prior to Senior Day. The Warriors snapped the Bulldogs' three-game winning streak Feb. 21.
Against Wayne State, Ferris struggled to sink shots as it held a field goal percentage of only 27.9. The Warriors shot 46.8 percent while making nine shots from behind the arc with 50 percent efficiency.
On the defensive side, Wayne State controlled the boards with 19 offensive rebounds and 37 defensive rebounds, bringing their total to 56 as they cruised past the Bulldogs.
Ferris State looked to bounce back from the loss with a win over division foe, the Saginaw Valley State Cardinals, who sat one spot below Ferris in North Division standings.
The game against the Cardinals held other significance to Ferris, as it was also Senior Day–the last time Ferris' seniors would play in front of their home crowd.
The Bulldogs hit the floor with passion and intensity as they racked up an 18-6 lead early in the first half.
As the game hit halftime, Ferris headed to the locker room, still in control of the game with a 41-36 lead. The Bulldogs rode the immaculate shooting of junior guard Sarah DeShone, who drained six of her 10 shots in the first half, with four shots from three-point territory.
The second half would be a different story, as Ferris could muster only another 25 points in the game and fell to SVSU in a 71-66 decision.
"I thought we were just a little flat on the energy," Ferris head coach Colleen Lamoreaux-Tate said. "I just think we have to do a better job of keeping the energy on every possession. I think that's what killed us."
As fans and players said goodbye to their seniors as they headed off the court, the emotion in the building could be sensed. It grew while the group walked away from its last home game.
"It's sad to see them go, especially on a loss like that," sophomore forward Kara Hess said. "We love them to death and we are sure going to miss them, but all we can do now is get them a win at Grand Valley."
There is still one more game left in the regular season, as the Bulldogs will travel to Grand Valley (18-7) to avenge their 83-72 loss earlier this year.
A win against GVSU will help give Ferris a boost of momentum going into the GLIAC Tournament, in which Ferris has already clinched a berth.
"We need to rebound better and we need people to step up and score," DeShone said. "We just need to keep our heads up and play confident."
The Bulldogs will need each player to step up and contribute if they hope to head into the post season with a win.
Ferris will travel to Allendale to play Grand Valley March 2 at the GVSU Fieldhouse Arena.