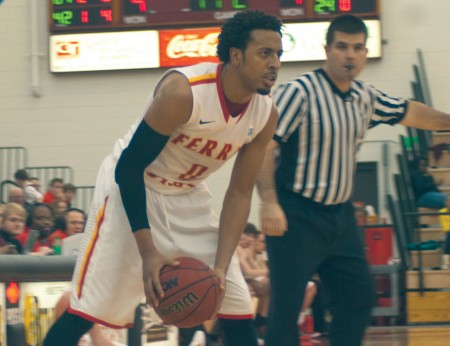 Ferris senior forward Daniel Sutherlin stood at center court, as Ferris redshirt freshman center Jared Stolicker leapt into the air for the opening tip-off.
With a broken ankle, Sutherlin went back and played defense, as he has done at an all-conference level throughout his college career.
"We owed him at least the chance to go out there in a uniform in front of his fans and take one last shot," Ferris head coach Bill Sall said. "He's had an amazing career here, a Sweet Sixteen finish, a couple of GLIAC Championships and he's been an integral part of what we've done here."
Sutherlin proceeded to trot down on offense and set up for a turn around, fade-away jump shot 12 feet from the basket, which rolled in and out.
The Ferris State Bulldogs would cause a turnover and call timeout moments later, during which the hobbled senior jogged off the court, as he received a standing ovation from Ferris State and Saginaw Valley State faithful alike.
"It meant a lot to me to get back out there," Sutherlin said. "One last chance to put on a jersey in front of the home crowd. My ankle felt fine; it was just stiff."
While Sutherlin played a total of only 54 seconds, the Bulldogs' plan was clear: Get Sutherlin a touch and a shot before they took him off the floor.
"It was incredible," Ferris sophomore point guard Dietrich Lever said. "For his last game, he didn't even know it'd be his last game. I wish he would have hit the shot though."
Broken ankle and all, Sutherlin hung tough. He played out that minute without a brace on his ankle, which has benched him for the remainder of the season. He set an example for a team that played much of its bench in a 75-67 loss against Saginaw Valley State at Wink arena Saturday, Feb. 23.
"We have to learn from this and try and win the GLIAC tournament so we can get a spot in the big tournament," Lever said.
Sutherlin was not the only Ferris senior to take the court on Senior Recognition Day, as senior guard Kenny Brown led the way in minutes played with 36. Brown finished with one fewer point (17) than Lever, who was leading scorer of the day with 18 points.
Ferris State was unable to hang onto the ball against Saginaw Valley State. The Bulldogs gave up 21 points on 12 turnovers and allowed the Cardinals to shoot 33 times from the charity stripe, where they made 27.
"The one thing we've been successful with is playing hard; we're maybe second or third in the country [at hanging onto the ball], but today we had a lot of really bad turnovers," Sall said. "They just killed us. We kind of semi got the ball and it bounced off our hands and they scored off of them; those are tough pills to swallow."
The loss drops Ferris to 14-10 on the season. The Bulldogs will be given a chance to end their regular season with an exclamation point on March 2, when they travel to Grand Valley State to take on the Lakers at 6 p.m.