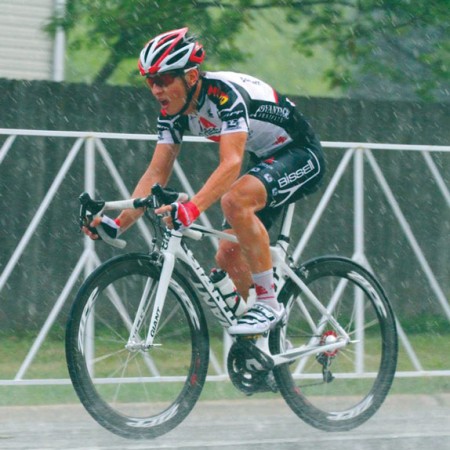 The thought of a student athlete at Ferris State brings traditional sports to mind, where scholarships are offered by the university and NCAA stipulations play a significant part in an athlete's collegiate career.
Ferris senior in mechanical engineering Alex Vanias does not follow these traditions.
Vanias, formerly a cross country athlete given a full ride to NCAA Division I Detroit Mercy, is now a professional road and off-road cyclist. He has ridden for Bissell Vacuum's under-25 professional team for a single season and hopes to continue riding under professional sponsorship during July of this upcoming cycling season.
While with Bissell, Vanias enjoyed racing in the Tour of Utah most.
The tour boasts a 600 mile route that takes a field of riders up into 40,000 feet of elevation and across the state of Utah with some of the most challenging cycling terrains in North America in just six days.
"The race in Utah is like Tour de France level," Vanias said. "The altitude was suffocating."
Vanias suffered injuries during his cross country seasons at Detroit Mercy.
While sidelined with an injury during his freshman and sophomore season at Detroit, Vanias tried cycling as an alternative method to train and remain active.
After becoming "addicted," as he put it, to cycling and remaining too injured for a second cross country season, Vanias secretly entered bike races without notifying his running team.
He began as a category four amateur road racer, and in the first half of the year became a category two road amateur racer.
His best self-proclaimed success prior to joining Bissell was winning the 2011 Category Two Tour of the Battenkill with a solo break from his competitors and team. This led to an upgrade to category one amateur racing with PriorityHealth, a Michigan cycling team.
He hasn't looked back since finding nearly immediate success.
Vanias transferred to Ferris after two years at Detroit Mercy, and committed himself to cycling.
His parents' financial aid sparked his initial interest to continue biking. Vanias cannot thank them enough.
His mother and father potentiated Vanias' realization of a dream to become a professional and perhaps internationally professional cyclist, and he works toward that goal every day with their support.
"I try to train as much as I can. You can never really put in enough time," Vanias said.
Vanias trains at least five hours a day, in between school and studying, eating and maintaining a life outside of his sport.
Vanias, who uses cross country skiing as a second avenue to train when he's not snow biking, recently bested 11th-time gold medalist of the White Pine Stampede and Michigan Tech Nordic Hall of Fame skier Milan Baic by five minutes at this year's 40 kilometer stampede Feb. 2.
Vanias said the conditions were not conducive of everyone's best efforts, due to an early grooming of the trails and a sudden snowfall that caused conditions to feel like skiers were trudging through deep powder.
"I did a good job of waxing my skis," Vanias said modestly.
Vanias has been told by experienced skiers he could imrpove his time and speed further if he had a better pair of skis and ameliorated his technique. The cost of skis and wax prevents him from taking the sport more seriously than a skilled recreation at this time.
While being a native of the United States, Vanias' early upbringing predominated in Thessaloniki, Greece.
He moved back to the states after eighth grade with little knowledge of school athletics. When he arrived to Pine River High School in Michigan, a cross country coach approached him and asked Vanias to join the cross country team.
Vanias, having zero background in organized athletics prior, agreed. Here, was his first introduction to sports that require endurance.
"Had we never moved back to the United States, we likely would never have discovered Alex's athletic ability," his father, Chronis Vanias, said.