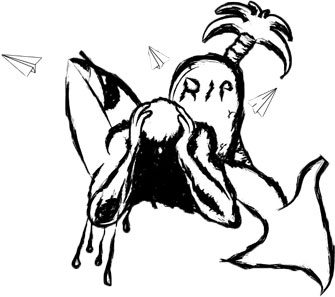 From graffiti to woodwork, one student delves into every form of art.
Zac Youmans has tapped into everything. His sketchbook is filled to the brim with names and designs drawn out in bold colored markers. The paintings are simpler, with a pop of red to catch the eye. The woodwork he has done is astonishing, and that's merely said for brevity.
Steered away from a laborious career, he attended a technical school near his hometown of Battle Creek for graphic communications. Now, Youmans is a Ferris junior studying graphic media management.
He found his artistic side at a young age, but once in high school, his art teacher began inspiring him to do more.
"My art teacher had a huge impact on my art. She was awesome," Youmans said. "She gave me the ideas and the style of art and I just went with it."
While he talks, he flips through the pictures in his phone, illustrating the conversation by showing off individual pieces.
A large tiger was created by a collage of small individual pictures, but far away the viewer would never know. An elaborately carved pumpkin was also the subject of creativity for Youmans.
When Youmans turned 8 years old, his dad finally let him start wood burning. One table he constructed has been turned into a work of art, displaying drawings and bright eye-popping color.
"My dad's a carpenter, and he's always had his own construction. So I've always had any tool I wanted to have for wood working," Youmans said about his favorite form of art.
While wood working is his favorite, his inspiration often comes from graffiti. This becomes clear looking through his sketchbook with all the names displayed throughout. He admits there is graffiti back home, some legal, some not so much.
Media plays a large role in his art as well. The "Zink" logo was created for a future brand Youmans hopes to have someday.
Looking ahead, Youmans hopes to design for a company or even run his own. However, his dream is to launch a clothing line.
Youmans has a lot of ideas about his future, and he is not sure exactly where he will end up. But for now, he knows he wants a job to showcase his artistic talents.