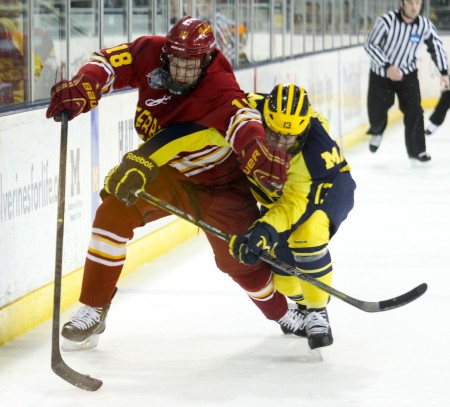 Ohio State was bombarded by Miami (Ohio), which allowed Ferris State another chance to earn home-ice in the quarterfinal round of the CCHA playoffs the same night.
Yet the Bulldogs were unable to capitalize on their opportunity, March 2, relinquishing home-ice to Ohio State for their upcoming quarterfinal's playoff series, as they dropped their contest against the University of Michigan at Yost Ice Arena 2-1 in a shootout.
Ferris freshman defenseman Zach Dorer found his way onto the score sheet, rifling home his first goal as a Bulldog midway through the second period from the blue line that knuckled past Michigan goaltender Steve Racine.
Ferris head coach Bob Daniels went for the kill in overtime by pulling sophomore goaltender CJ Motte with 37 seconds remaining. With an extra attacker, senior center Travis Ouellete had a breakaway chance that was denied by Racine.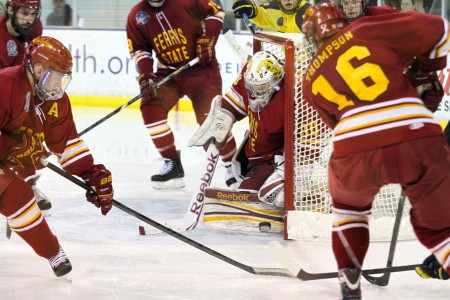 "I told the guys on the ice we were going to pull him," Daniels said. "They wanted it and they nodded their heads, I wouldn't have done it if they thought I was crazy."
Motte finished with 35 saves, which kept Ferris in the contest all night. Michigan's offense pestered Motte constantly throughout the contest, crashing the crease at will. During one of these scrums Motte was bowled over after making a stop.
The puck rolled loose off Motte's pads as he fell to his backside. Motte was able to slam the back of his foot on top of the puck as it reached the line, which was the pivotal stop of the game for the Bulldogs.
Ferris' quest for the Mason Cup will commence on March 15 at Ohio State University, in Columbus. The games will be played in the Buckeyes' secondary rink.
"Apart from missing out on the home ice, I think we're in a good place," Daniels said. "The rink we'll play in is much smaller, low ceiling, and I think we'll be comfortable playing there."