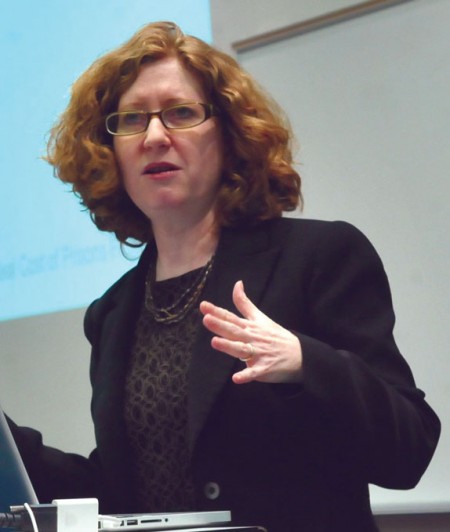 Although many describe her as a "Pro-Choice Speaker," she prefers the term "Reproductive Justice Advocate."
Lynn Paltrow, author and attorney, visited Ferris to explain why the right to choose abortion is important for women to have.
"[I'm here] to explain why the court shouldn't overturn Roe V. Wade, and why it would be devastating, not just for the right to choose abortion, but really for women, their health and their status of constitutional person."
Throughout her presentation, Paltrow explained that nearly all of the court cases she has seen dealing with the right to choose contained significant reasons for why the woman should have the right.
She said not a single person wrote things like, "I had an abortion because I had a right to choose," or "I had an abortion because it's my body, my right," or any of the slogans mainstream pro-choice groups encourage people to use. Instead, people's reasonings were about responsibility, relationships and connections.
Samantha Kilmartin, Ferris sophomore in communication, not only attended Paltrow's presentation, but also attended the pro-life speaker's presentation on campus at the end of January. Kilmartin said she really connected with Paltrow.
"The pro-choice speaker was much different than I thought she was going to be. She used a lot of facts and statistical information to back her beliefs up," Kilmartin said. "She pointed out many different court cases that made the matter more real and serious to me. If I had to pick a side, I would say pro-choice because everyone's pregnancy comes with responsibly, and you should have the choice in deciding if you can handle all of them that come with having a baby."
Paltrow, the founder and executive director of National Advocates for Pregnant Women, spoke to an audience of Ferris students, faculty, staff and community members on Wednesday, Feb. 27. The attendance was low, but the participation was high.
Although the people in attendance were active audience members, Kilmartin had her own thoughts about why many people did not attend the event.
"I believe the reason for the low turnout is the lack of interest. Both speakers came with heavy topics, and some people don't want to face them or even think they need to worry about things like this," Kilmartin said.
"I believe as we age and go through experiences with having children, more people will start to care and realize that these topics are important and need to be discussed."
During the question and answer session, the conversation became very controversial at times. At the end of the event, Paltrow made certain her point was clear.
"In other words, to say that she is just having it [an abortion] for convenience—you know what, people have the right to free speech. They have all sorts of things that we can label. But when we talk about women, we sort of dismiss what they have to do as just convenient," Paltrow said. "I don't think pregnancy is convenient. I don't think giving birth is convenient. I don't think raising children is convenient. This is the condition of being human and whether or not the label, women will do what they need to do around their reproductive lives."