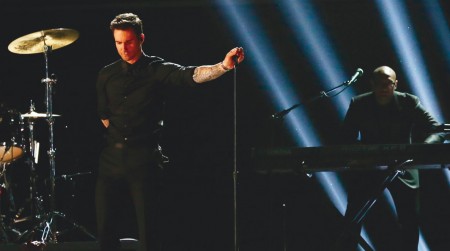 With flashing lights, blaring music and screaming fans, concerts are an event unlike any other.
 
While many Ferris students complain that Big Rapids has nothing to offer, they often forget that Grand Rapids is merely an hour drive away with endless opportunities. Van Andel hosts big concerts that are often worth the time and money. Maroon 5 was one such concert that many students may have enjoyed.
 
So much planning goes into a concert, and Maroon 5 was not short of pleasing. A stage glowing white in the shape of an "M" served as the runway for vocalist Adam Levine and guitarist James Valentine.
 
From "Moves Like Jagger" to "Sunday Morning," the band played hits from various albums to a more than delighted crowd. All the while, backdrops changed with each song, and a light show set the mood.
 
The band members came to impress and really got into the performance with the opening song "Payphone." The crowd immediately became ecstatic when Levine threw off his leather jacket and began running the stage as an experienced entertainer.
 
After the first couple songs, Levine broke the news to a packed Van Andel Arena that he had laryngitis. It was not until an acoustic version of "She Will Be Loved" did the crowd start to see the effects.
 
A bridge was dropped from the ceiling to connect the main stage to a small square in the middle of the crowd. Levine and Valentine waltzed out among the audience to play a more intimate rendition of the popular song. Levine struggled to sing through it.
 
Eventually he involved the crowd and asked them to sing along. The left and right sides of the crowd were assigned different parts to sing to support the band in the absence of a strong voice.
 
Despite the hardships, the band went out with a bang. The set was only an hour and left the crowd wanting more.
Ashley Fryling, Ferris junior in graphic design, had the opportunity to attend the concert in Grand Rapids.
"Maroon 5 was awesome. They got the crowd really fired up and into it," Fryling said.
Overall, the show was a success. Maroon 5 can still rock a show, despite illness. Paige Bukowski, Ferris sophomore in pre-pharmacy, was impressed at the variety the show had to offer.
"They always changed it up and it was always different. I thought they were really good performers and the backdrop added some diversity," Bukowski said. "They did a lot of the songs I was hoping to hear."
Fryling thought the getaway from Big Rapids was certainly worth it.
"I'd see them perform again. It was a great experience to just hang out and enjoy some good music," Fryling said.