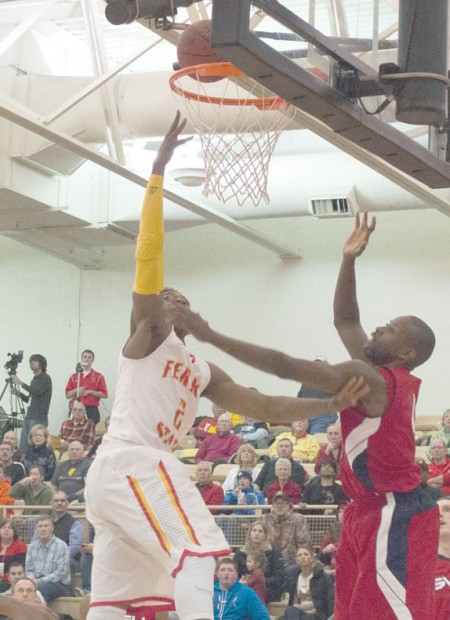 Ferris traveled to Allendale for the regular season finale against arch rival Grand Valley State University in the 100th game between the two rivals.
 
Unfortunately, the Bulldogs finished eight points short, as GVSU stopped Ferris' three-game winning streak, extinguishing the Bulldogs 81-73.
 
"Our energy level was a little low; we came out a little flat in the first half and didn't play as well as we needed to to get the victory," Ferris sophomore point guard Dietrich Lever said.
 
Although the Bulldogs won their first match-up this year, Feb. 2, by a one point margin, the Lakers' advantage in rebounds and second chance points proved to be too much for the Bulldogs to handle.
 
The Bulldogs were out rebounded 41-19 throughout the contest, and the Lakers held a distinct advantage in second chance points by scoring 13 more than Ferris.
 
Even though the Bulldogs shot 51 percent on the day, theytrailed by as many as 14 points in the first half before closing the gap to seven at half with the score 36-29. They were then outscored 45-44 in the second half.
 
Sophomore guard Drew Lehman led the Bulldogs with 17 points in the contest, while freshman forward Josh Fleming led Ferris on the boards with eight rebounds.
 
The loss marked Ferris' second in its last six contests against the Lakers.
 
Ferris finishes the year in a fifth-place tie in the GLIAC, with a 13-9 conference record and a 14-12 overall record.
 
Due to tiebreaker rules, Ferris will enter the GLIAC Tournament as the sixth seed and will travel to Ohio to visit third-seeded and GLIAC South Division champions Findlay in the quarterfinals.
 
"First goal is to get out of the quarterfinals and beat Findlay, but the ultimate goal is to win the tournament and get into the NCAA Tournament," Lever said.
 
Ferris will try to avenge its one-point overtime loss against the Findlay Oilers on Dec. 15.
 
The GLIAC tournament kicks off for the Bulldogs March 6, as they embark on the road to a GLIAC championship.