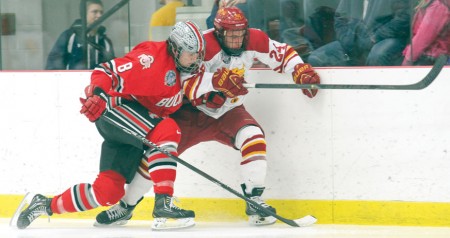 Ferris State unwillingly rests its legs after bowing out of the CCHA's last quarterfinal playoff round.
Ferris State's desire to keep the season alive was evident in a tight 3-2 loss March 17 that featured 49 Bulldog shots on net to the Ohio State Buckeyes' 27.
"It obviously hurts right now. We all wanted to advance to Joe Louis and have a chance to win the last CCHA tournament ever. But it was not in the cards for us. I am proud of how we grew as a team and the guys left have a bright future," Ferris' senior captain Kyle Bonis said.
Ferris head coach Bob Daniels had to change the design of this season's team, and it responded by earning a fourth consecutive first round bye in the CCHA playoffs. The CCHA Tournament's current top seed Miami (Ohio) is the only other school in the conference that has achieved the same feat.
Daniels stressed that for Ferris to be successful next year, the returning 20 in the Bulldogs' line-up must build on the success of this year with the experience Ferris gained.
"I hope a little success this year doesn't get in the way of greater success next year," Daniels said.
Ferris' defensemen were able to step into a roster with little seniority at the position.
"Everyone in our defensive core saw lots of time this year. I only expect them to get better," Ferris junior center Cory Kane said. "They were a big part of our success this year and will be key next year."
Daniels alluded to competition existing in the Bulldogs' crease next year.
Ferris sophomore goaltender CJ Motte, who averaged a national 18th-best .927 save percentage through 35 games this season, could split starts or weekend series with freshman goaltender Charles Williams.
Williams has practiced with the team all season and played limited minutes in his initial season. He can play the puck just as Motte can, and was a renowned recruit from the Lincoln Stars (20-4-3) of the USHL junior league in 2011-12.
Ferris will bandage the loss of four contributing seniors with the next five upcoming years.
"I think with all the adversity we faced this year with injuries and losing eight seniors, our team will be ready for next year," Ferris junior wing Justin DeMartino said. "I really think that our senior class next year will be made of great leaders. We all have different attributes that will help our team be very successful."
Next season, Ferris State will join the Western Collegiate Hockey Association, four remaining programs with five other schools from the CCHA.
"Moving forward, I see this conference being extremely competitive with teams that have similar backgrounds," Daniels said. "We're currently housed in a conference with a lot of great, great coaches."
Daniels believes nine of the 10 programs coming into the conference are from two of the nation's most powerful conferences.
"Quality of play will be very high. I don't see our goals changing or the level of play," Daniels said.
Ferris State will hope to be a top power in the league and remain in the running for the conference's playoff round in the future.
"I really feel that we will be one of the top teams. We have all the pieces. Losing our four seniors will hurt, but that's always a great opportunity for people to step up!" DeMartino said.
Daniels reported that Michigan and Michigan State have agreed to a three-year deal that will continue the history between the programs. Ferris will travel to both arenas next year for non-league games, before each program visits Ewigleben Ice Arena during the final seasons of the deal.