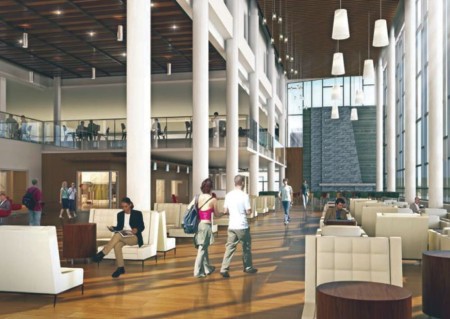 The planning process for the Rankin Center renovation has been a long and continuous journey; however, a design and execution plan is in place.
While there was careful consideration about what would be included inside the new University Center as well as the design of the building, many students' opinions were welcomed and included in the set plan.
According to Michael Hughes, associate vice president for the physical plant, the renovation to the Rankin Center, which will produce the new University Center, is scheduled to begin this May.
"While the entire building is not planned to be torn down, approximately 80 percent of the exterior building envelope will be new," Hughes said. "Additionally, the interior of the building will be gutted to the structure and rebuilt. The Dome Room will be completely demolished to make way for a new multi-event space."
In 2011, the visioning task force for the new University Center collected input from students, faculty and staff about what they wanted to see incorporated into the plan. By November 2012, the final design draft was in the works.
Once the design draft was finalized and approved, it was made available online for public viewing. Students in facility management examined the design plan and created their own opinions about the up and coming University Center.
Andrew MacIver, Ferris senior in facility management, served on a committee which contributed to the design planning process.
"What we wanted to do was make this our flagship and recruiting building, something that was really in your face and shows students that this is what we are on campus," MacIver said. "What we were trying to do for the most part is make a building that is different from the others and really stands out; it is different."
According to Hughes, the main purposes of the new University Center are described as serving as a recruitment tool and gathering space for students and commuters as well as provide a place to foster and encourage student leadership and interaction.
Jace Heneveld, Ferris junior in facility management, felt that the design plan will be effective in meeting the goals set for the University Center.
"I think it is going to really give a face lift for Ferris in general. I don't know when the latest new building for the whole student environment has been, so I think that it's really something that Ferris needs to do for the students," Heneveld said. "I also think it'll make events and sharing information better with all of the event stuff in a building that people want to go in."
The project, with a budget of $33.9 million, is scheduled to be complete by December 2014 and will reopen to the public in January 2015.
For more information, updates or to view the design plan for the new University Center, visit ferris.edu/HTMLS/administration/adminandfinance/physical/renovation/index.html.