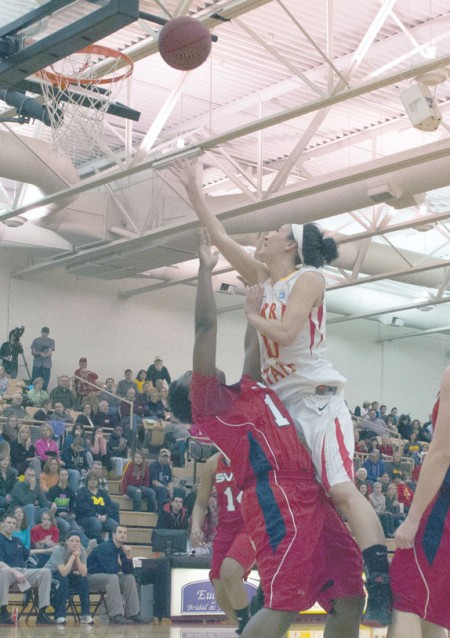 The season came to an unfortunate end for Ferris State as it faltered to the Wayne State Warriors in the quarterfinals of the GLIAC tournament by a score of 68-59.
Each team met for the third time this year March 6 at Wayne State. Wayne State was victorious against the Bulldogs three times this season, while nine points was the closest margin of defeat for Ferris.
Ferris would put itself in a hole at the end of the first half as the Warriors went on an 11-4 run to extend their lead to 39-26 at halftime.
"It meant a lot to get to the tournament. We had a lot of ups and downs this season and Wayne State beat us twice already, so we really wanted to get them that third time," Ferris redshirt freshman guard Katie Mavis said.
The 13-point deficit would prove to be too much for Ferris to come back from as the Bulldogs' second half runs were stifled. The Bulldogs could not get the game closer than six points.
Four Ferris seniors completed their career. Ferris guard Kylie Muntz, forward Caitlin Carmody, forward Felicia Standley and center Katy Fox hung up their jerseys for the final time.
Mavis said, "I'm really going to miss all of them. I'm going to miss all of the fun we had and this year I thought they all did an exceptional job."
In head coach Colleen Lamoreaux-Tate's first season with the Bulldogs, Ferris finished at a .500 mark with a 13-13 overall record, and sported a 12-10 GLIAC record.
The Bulldogs now turn their focus to the off-season. Two major contributors for Ferris, junior guards Ashley Rando and Sarah DeShone, look to take the Bulldogs to another level next season.
"I'm the vocal leader; the team listens to me," Rando said. "Sarah leads by example. She is obviously one of the best players on our team and players tend to follow her by doing the things she does."
DeShone was a First Team All-GLIAC selection by averaging 17.7 points per game and starting every game for the Bulldogs. Rando finished second on the team in scoring, averaging 10.3 points a game.
With seniors saying farewell and incoming freshmen getting prepared, a new chapter in Ferris women's basketball awaits. The Bulldogs will approach the new era with a hopeful attitude as they look to improve on a successful season.
"With the off-season upcoming, there will be new recruits coming in and team chemistry will have to be developed. We also need to work hard in the weight room and we can always improve in our offense," said Rando.