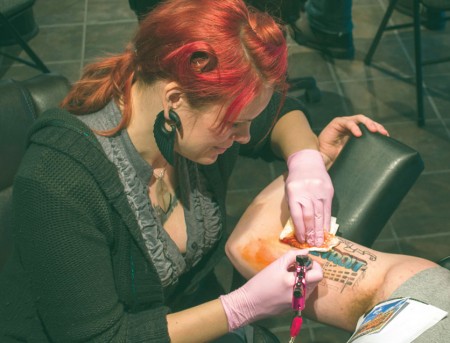 Ferris State alumna and Big Rapids based tattoo artist, Sonya Grenell, is making a name for herself one tat at a time.
Often, when people think of tattoo parlors, they immediately think of dirty establishments, biker gangs and shady characters; most of the time the reality is far from the perception, as most are clean and well-organized businesses.
One tattoo studio that follows the latter is Lighttouch Tattoo, located in downtown Big Rapids and ran by Bulldog alum Sonya Grenell.
Grenell has been tattooing for 10 years, three years fulltime since her graduation from the graphic design program at Ferris. She took over Lighttouch in 2010 along with fellow tattoo artist and fiancé Jesse Cocking; since then she has never looked back.
"This is my passion," Grenell said. "I love to know that somebody would come to me to get some of my work done and wear it forever. The only goal I have now is to keep learning new techniques and to keep building my skill."
Grenell has used what she learned in her time as a Bulldog to better herself not only as an artist, but also as a business owner, as she books out months in advance due to the popularity of her work.
"Ferris' graphic design program not only teaches you about design, but also about business," Grenell said. "The marketing classes have helped a lot as a business owner, and I also incorporate all of my graphic design skills into my tattoo compositions."
With Lighttouch gaining more and more popularity, it is easy to find students who either know about the studio or are carrying one of their works of art.
This is the case for Ferris senior accounting/finance student and standout forward for Ferris' men's basketball team Daniel Sutherlin. Sutherlin had the first two of his six tattoos done at Lighttouch.
"The work they do there is very good, and I enjoyed my experience there," Sutherlin said. "It was a really friendly environment and they are well-organized. I like the fact that they really care about their work and maintaining customer satisfaction."
With the future looking very bright for both Lighttouch and its owners, Grenell knows it takes hard work and devotion to be successful in this industry.
"I don't think a tattooist can be successful without devoting 100 percent of their time to tattooing," Grenell said. "I basically eat, breathe and sleep tattoos."