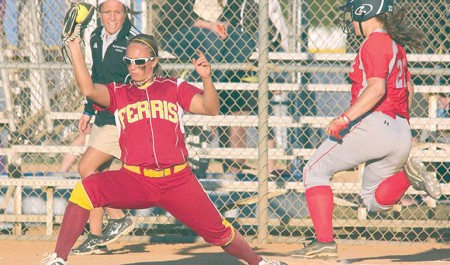 While the boys of summer continued to ready themselves in Florida for baseball season, the Ferris State Softball team was doing the same in Kissimmee.
The Ferris Bulldogs kicked off their season with the 2013 Florida Rebel Spring Games March 9-17, coming off of a 31-24 record last year.
Ferris State wasted no time throwing its guns on the mound, which led to a torrid 6-1 start that included a 13-3 drubbing of Wheeling Jesuit (W. Va.) in five innings. Ferris delivered the same treatment to Lees-McRae (N.C.) in a 9-0 win.
Ferris junior pitcher Amy Dunleavy was effective on both sides of the ball all week, compiling a 4-1 record to lead the team in wins. With the bat, Dunleavy logged an on base percentage of .390, including a homerun, and cleaned up the base-paths with team high 17 total bases.
"I think our age was the big difference," Dunleavy said. "We were able to prepare a little better knowing what was ahead in Florida. We came out really strong and look forward to further success this year."
Senior pitcher Dana Bowler, who pitched a team high 41 innings over the week, averaged more than one strikeout per inning, with 45 total. Bowler separated herself from the pitching pack with 15 of those batters struck out looking as opposed to swinging. The rest of the rotation has 12 such strikeouts.
The bats cooled off in the second half of the tournament, as the Bulldogs stumbled into the weekend finishing with a 7-5 mark overall.
"As a team we need to find a way to start games a little stronger," Dunleavy said. "We need to score first and give our pitchers a little more breathing room."
Dunleavy carried her own load much of the time, and currently leads the team in runs scored with nine, and is second in runs batted in with six.
"The week could have ended better for myself and the team," Dunleavy said. "Playing 12 games in a week provides plenty of blisters and bruises, but we did a great job of playing together.
A closer look at the five losses shows that only one was by more than three runs, which was a 4-0 loss to Southern Indiana.
The Bulldogs also won three straight games with a two run lead in one and a one run lead in the others, with an extra innings struggle against St. Cloud State (Minn.).
Ferris won close games and kept its losses from getting out of hand, which is a good sign heading forward.
The Bulldogs will start conference play March 23 with a road trip to Ohio. The four game weekend set includes match-ups with Ashland for the first two games and Malone for the last two.