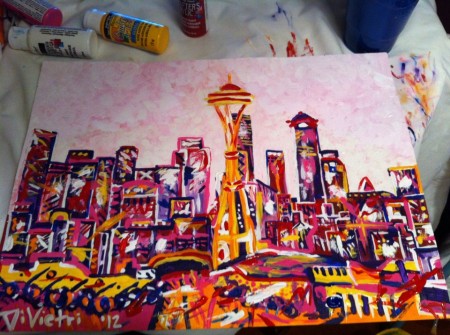 Melissa DiVietri, a self-proclaimed goal setter, excitedly describes what she hopes to do with her art someday. The tape recorder can barely keep up as she explains her paintings and dreams. DiVietri's voice is sharp. It pierces the small office and reverberates off the wall.
She does not even notice.
She is sitting in the back room of the Rankin Art Gallery, a place DiVietri feels perfectly at home in.
She zips through a few sites on the computer. She has already been to class, work, another interview, and after this is on her way to an event – all on three hours of sleep.
Poised on the edge of the chair, she recalls some of her greatest accomplishments as an artist.
Her most praised moment came when the Detroit Institute of Arts museum displayed one of her paintings – a colorful, lively view of the Detroit cityscape. It was her first painting in six years.
"I like to be able to change people's moods when they're looking at my art. It inspires me to make people want to see more," DiVietri explains, gesturing.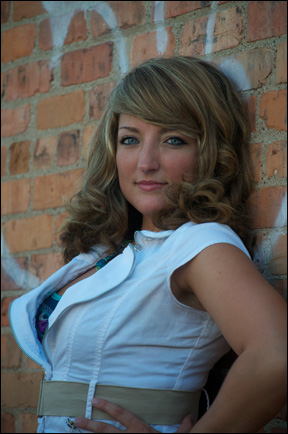 On campus, the senior in graphic media management works at the art gallery twice a week, is the President of Imagine More Art Association and designed this year's Festival of the Arts booklet being distributed throughout Big Rapids. She was also chosen to be student artist of the month and have her artwork displayed outside of Rankin Art Gallery.
Carrie Weis, Rankin Gallery art director, was the one who asked DiVietri to design the cover of the booklet, praising her diligence and talent. She also asked DiVietri to be student artist of the month so students could see her artwork.
"February is a great month for her work to be shown. Her work is energetic and colorful and is refreshing and inspiring during one of Michigan's toughest winter months," Weis said.
In 2010 DiVietri started DI Designs, a business to sell her artwork and freelance to anyone needing creative help.
"It's my way to put my stuff out there and inspire people," DiVietri says. "People like to see art. They like to see something creative."
As a young girl from Traverse City, DiVietri started using her talent in the arts to make business cards for friends with their Myspace names on them. She chuckles from embarrassment at the thought.
Someday DiVietri hopes to expand her business or be a "mover and a shaker" as she calls it. By going from company to company she is hoping to rev up creativity all over the world.
DiVietri's next goal is to travel to 30 countries by the time she is 30. At the age of 24, she plans to make her first stop in Italy this summer where she hopes to learn from some of the most influential artists before our time.
However, she does not plan to go abroad just to learn but someday aspires to open art studios around the world for under privileged children to attend and have a creative outlet.
Natalie Bycraft, a member of Imagine More Art Association, is a close friend of DiVietri.
"Melissa definitely has a bright future with her art. She is already so successful, even before graduating. There's no telling how far her art will take her," Bycraft said.
DiVietri could go on for hours. Eventually she realizes the time and cuts herself short. She leads the way back through the gallery, saying this is the first thing she has ever been fully in charge of. There is a hint of nervous pride in her voice as she locks the doors for the night.
"The world could just use a bit of color," DiVietri speculates with a twinkle in her eye.