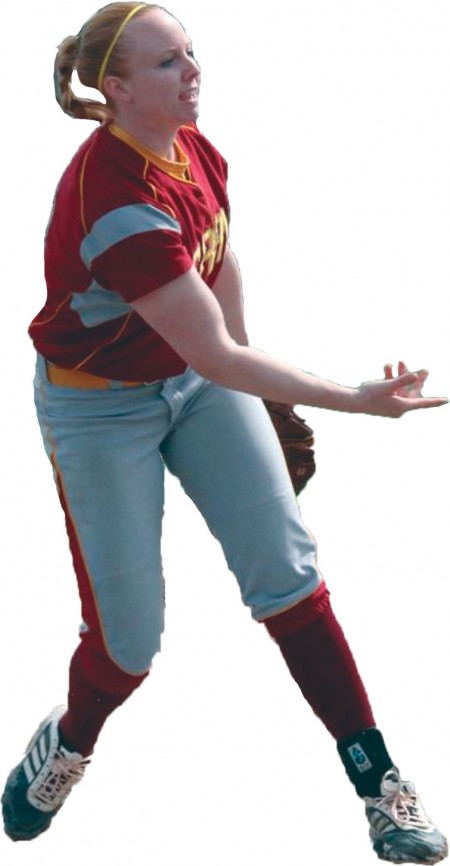 A streak of yellow shot into the skies over Caledonia, as Ferris senior pitcher Dana Bowler wheeled around to see the streak slow as it returned to earth.
Ranging over was Ferris junior left fielder Alex Wittman, as the ball sank and settled into her outstretched glove. Wittman threw her arms into the air; it was a perfect game.
"When Alex caught that last out and looked right at me screaming with joy, I knew they all realized it," Bowler said. "It just felt great."
The game lasted an hour, much to do with Bowler's fast work on the mound, striking out eight of the 15 batters she faced over five innings.
To throw a perfect game is enough, but perhaps more impressive was Bowler's bold prediction as she warmed up for her historic day.
"Well, actually, it's a funny story," Bowler said. "When I was warming up, Lainee [Clay] asked me how I was feeling, and I told her before the game that I was going to throw a no-hitter."
The statement defied all sports superstitions, even those outside the world of baseball and softball. For someone to say 'No-Hitter' let alone 'Perfect Game' during the midst of a bid for one is enough to jinx the whole thing completely.
Yet Bowler stared superstition in the face and it cowered before her on this day. Not only did she boldly predict her game, she attacked the strike zone aggressively, throwing 35 strikes on 47 pitches.
"I have seen her throw that well before," Clay said. "Things just fell into place for her."
The last out itself was a hurdle that Bowler had stumbled over before. Much like any starting pitcher who sees success at any level, Bowler erased memories of near perfect games past and finished off Lake Erie third basemen Morgan Studd.
"Last year I was one out away from a perfect game, and I knew that those girls really wanted this for me," Bowler said.
Bowler has carried the load on the mound for the Bulldogs thus far this season, starting with her 7-4 record. She has tossed 11 complete games in 12 starts; the perfect game was her third shutout of the season.
She has pushed the Lady Bulldogs to a hot start as they ended the weekend of March 30 on a six-game win streak, which puts them into second place behind Grand Valley State as of March 31.
Every year we've fallen a few wins short of making it to regionals," Bowler said. "We had to rely on the conference tournament. That's a lot of pressure."
What Bowler has shown outside of her skill and consistency is stamina, tossing 15 innings on one day.
"Her pitches got better as the games went on," senior catcher Liz Hamming said. "She's always confident, and I think [Dana] will continue to dominate teams this season."
Winning early certainly alleviates late season pressure, as Bowler and the Bulldogs well know. Ferris State's fiery burst out of the gates is sure to have them loose as the season continues.