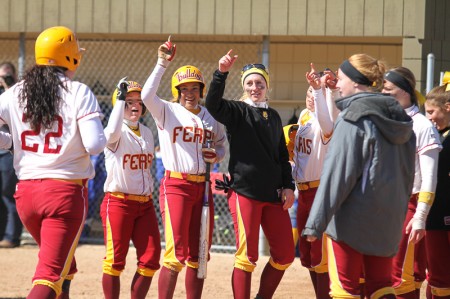 For someone who professed to be "struggling" at the plate, junior Amy Dunleavy seemed to find her rhythm awfully fast on April 3.
Dunleavy's rampage at the plate for the Ferris State softball team began in the first of the two-game set, blasting her third home run of the year in route to an 11-0 win.
"I had been struggling with my hitting and over thinking," Dunleavy said. "So today I was just thinking 'head down, and relax.'"
Her multiple hit effort in game one was just the beginning of what was to be a fruitful day at the dish.
In the second game of the doubleheader, Dunleavy came out swinging. She hit a grand slam in the third inning, and continued to swing for the fences by hitting a two-run shot in the top of the final inning to end her day with seven RBI's.
"I was seeing the ball well because I also had two walks," Dunleavy said. "I was just waiting for the right one."
Also headlining in the second game was relief pitcher, senior Emily Carlson. In three and two thirds innings in relief of Dunleavy, Carlson allowed no runs and struck out two in the process.
"My mentality is a little different when I come in to pitch in the third inning versus the fifth or sixth," Carlson said. "But my overall game plan is the same: get out of any trouble and not give up anymore runs."
The 11-3 win capped a sweep of conference foe Lake Superior State and propelled Ferris State to 15-7 on the year.
The Bulldogs ride an eight game streak to Allendale for a two game set with the vaunted pitching staff and offense of the nationally ranked No. 12 Grand Valley State Lakers (National Fastpitch Coaches Association poll), who sit atop the GLIAC at 9-1.
"We are ready for [Grand Valley]," Dunleavy said. "Our pitching is going to be key in these games because both teams can hit very well."
To view more photos, visit our Facebook page for a full gallery.