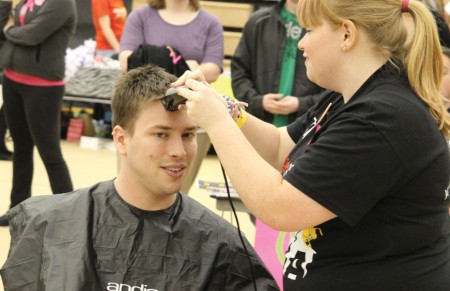 Senior music industry management major Brian Callaghan described Relay for Life as "life changing."
While it was life changing for Callaghan, it could quite possibly be life saving for others. The event raised $25,548.88 for the American Cancer Society, according to senior business administration major and Ferris' Colleges Against Cancer chapter president Whitney Rivest.
Starting at 6 p.m. on April 5 and ending at 6 a.m. April 7, Callaghan, Rivest and other Ferris students participated in the sixth annual Relay for Life at the Jim Wink Arena. The event consisted of nearly 50 teams of more than 400 students and was organized by Ferris' CAC with the help of other student organizations.
For Callaghan, who serves on the event committee and was a co-team leader, the experience was bittersweet. On the day of the walk, a close family friend who had been diagnosed with cancer a month earlier passed away.
"It was a very emotional experience," he said. "I felt proud to be there and honored to represent friends and family who have survived and died from cancer."
Callaghan, along with Travis Hodder, joined 12 registered participants on the Music Industry Management Association team to raise $842.66 in their first year of participation in the event.
According to Callaghan, many participants in the event were first-timers and turnout was even greater than organizers anticipated. He said the event surpassed its enrollment goal as well as its fundraising goal of $25,000. In comparison, last year's event brought in $18,000.
During the event, teams partook in the walk as well as traditional events such as the Luminaria Ceremony to honor those touched or lost to cancer. Additionally, students took part in fun activities, many of which were inspired by the walk's movies and television shows theme.
Rivest, who has participated in Relay for Life since she was 16 years old, said Ferris' Relay for Life prides itself on its on-site fundraisers. One of the most popular events is the annual "Miss Relay" show, a cross-dressing beauty pageant. Other fundraisers included a bounce house, a newspaper-duct tape fashion show and a dodgeball tournament.
Like Callaghan, Rivest's life has been touched by cancer. Its potential to devastate any family motivates her to raise awareness and funds.
"Statistically, two out of every three men will be diagnosed with cancer," she said. "I have a baby nephew who I adore, a boyfriend I care about very much and a father who I love. That statistic means two of them will be affected. We need to find a cure."
For information about Ferris' CAC group, visit their Facebook page. Donations for Relay for Life will continue to be accepted for the next several weeks.