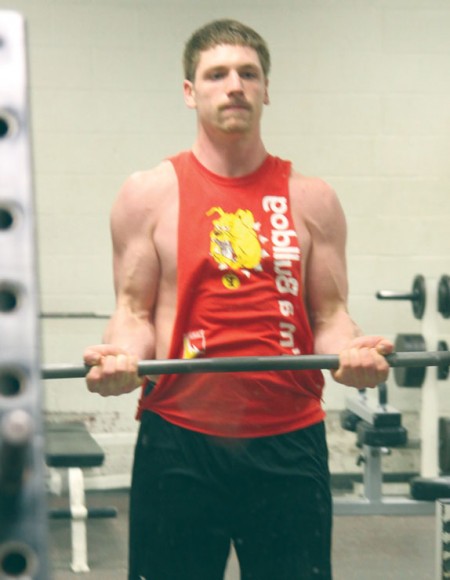 Now that his final season as a Bulldog is behind him, Ferris State's Brad Iskow has turned his sights to the next level of his playing career.
With the NFL draft looming and the period of rookie free agent signings nearing closer every day, Iskow has been training for his own spot on a professional roster.
As a graduating senior in operations and supply management and a talented defensive end, Iskow has left his mark on the field in his career as a Bulldog. In his five years spent playing for Ferris (including a redshirted freshman year), Iskow totaled for 164 career tackles, 13 sacks, 45 tackles for a loss and six forced fumbles.
In his senior year, Iskow rallied for 64 tackles, including 4.5 sacks, and ranked first in the conference and second in the nation with his school record 25.5 tackles for a loss. His senior performance earned him All-Super Region Four Second Team accolades alongside linebacker Tayo Moss, who also earned All-American honors.
Apart from his impressive playing resume, Iskow also fits the professional bill with the body of an NFL caliber defensive lineman. Standing around 6 feet 5 inches tall and weighing in at 275 pounds, he mirrors the stature and athleticism of former Detroit Lions defensive end Kyle Vanden Bosch.
"He is a big-bodied defensive end who has the ability to play either end or move to defensive tackle," Ferris senior all-region first team honoree and fellow defensive lineman Jordan Morgan said. "I think he has a pretty good chance to play somewhere [professionally] because of his size and talent. I just wish him the best and look forward to seeing him succeed."
Iskow and Morgan teamed up in 2012 as one of the GLIAC's best pass rushing duos, combining for a total of 15 sacks and an impressive 39.5 tackles for a loss.
With his senior campaign finished, Iskow flipped his focus to training and preparing for his possible professional career.
Iskow trained at the St. Vincent Sports Performance training facility in Indianapolis, Ind., where he worked to help get himself in peak physical and mental shape. Most recently, he traveled to Ohio, where he attended a pro-day for the Canadian Football League (CFL).
Even with the possibility of landing in the CFL or the Arena Football League, Iskow has kept his focus on pursuing his dream of playing in the NFL. With teams like the New England Patriots and the Detroit Lions, among others, showing interest in him, his dream looks more and more like a reality.
"I think I have a pretty good shot of going to the NFL, most likely as a free agent," Iskow said. "It has always been my dream as a kid to play in the NFL, and I feel confident that my hard work should pay off in the end."
When asked what it would be like to get a call from a team wanting to sign him Iskow said, "Honestly, I'm not sure; but I'm guessing it will be one of, if not the most, exciting moments in my life."