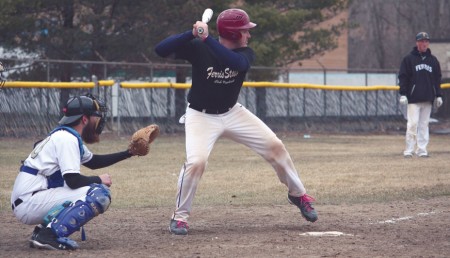 Ferris State's club baseball team would like to share the nation's national pastime with the community now that spring is kind of here.
The Bulldogs met the Broncos of Western Michigan University behind Riverview Elementary on April 6 for a doubleheader at Win Kellum Field in Big Rapids, and once April 7.
In the final game of the series, Ferris failed to quiet Western's bats and fell 16-6.
The Bulldogs watched while Western increased a 3-2 deficit in the first inning to an 11-2 Bronco lead by the top of the seventh inning.
"At times, I thought we played well," Ferris senior centerfield Kyle Mead said. "Our defense let us down. They made too many errors."
The Bulldogs eyed a possible comeback opportunity in both the seventh and eighth innings. Ferris loaded the bases each inning, thanks in part to Western pitching errors.
However, the Bulldogs brought only three home in the seventh.
"We struck out a lot this weekend, which ended our chances to score a run and ended rallies that we possibly could have had," Mead said.
Ferris dropped the opener 7-3 and caught the second game of the doubleheader, defeating Western Michigan 8-6 on April 6.
Losing two of three league games against Western set Ferris at fourth place of six teams in the Great Lakes North conference of the Division I National Club Baseball Association.
The Bulldogs are 2-6 (1-2) this season.
"Every team we play, we have the potential to beat but all of our guys have to come to the field ready to play," Senior outfielder Alex Darin said.
Before the Bulldogs face league foe Central Michigan at Mt. Pleasant April 13-14, defensive improvements will be made. Ferris gave up 34 hits and allowed 29 runs to Western.
Mead said improvement is Ferris' goal, but self-funded trips that are too costly will prevent Ferris from generating more respect on the diamond.
Mead hopes to leave a team that earns more wins this season and can crack a .500 winning-percentage the next.
"We're trying to constantly get better to become more respectable," Mead said. "But it's not going to happen over night."
Ferris will return to Win Kellum Field to face conference foe Michigan State on April 20-21 in a three-game home series that begins at noon each day.
"We like the challenge of playing the bigger schools. It gives us something to strive for because we're the smaller school in the conference," Mead said.
The will to win has motivated Ferris during the season. Ohio State was defeated 10-9 on March 12. Mead said flippant attitudes due to Ferris' lack of notoriety has helped motivate Ferris against bigger universities.
A little more support would warm the collective heart of Ferris State's club baseball squad during a chilly spring season.
"It's always more enjoyable to play in front of fans, family and friends who help cheer us on while we try to make some big plays against bigger schools," Mead said.