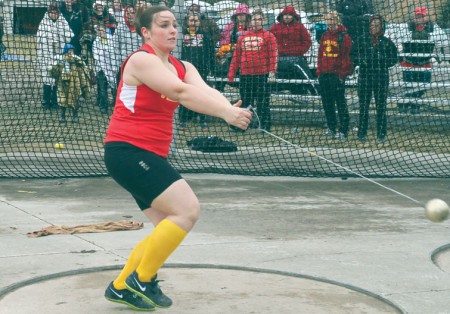 Ferris hosted its only home event of the season at Top Taggart Field as the Bulldog Open kicked off in full force.
The event hosted some local competition in Lake Superior State and Grand Valley State along with some individual athletes from a variety of places on April 6.
Junior David Silversmith said, "Many of us didn't have the competition we normally have, so it was cool for many of the younger players and people that don't get to travel a lot to perform in front of their friends and family."
On the women's side it was junior Jessica Pilling who stole the show, winning three individual events in the shot put (11.45 meters), discus (33.23 meters) and hammer throw (53.86 meters).
Senior Alyssa Osika took first place finishes in the 800 meter and 1,500 meter with times of 2:22.99 and 4:57.42, respectively.
Following Osika in the 800 run were Ferris mid distance athletes. Freshman Rachel Wood finished in third (2:32.74), junior Brittany Anderson in fourth (2:32.75) and junior Breeann Ovokaitys in fifth (2:35.36). Ferris' sophomore Shea Van Klompenburg took home first in the 400 meter race.
Ferris' senior thrower Christa Cwiek won the javelin with a distance of 30.73 meters and finished third in the shot put.
The Ferris State women's 4×400-meter relay earned a second place finish behind Lake Superior State.
"The team did very well, even though there were only two or three teams, but we competed well," Silversmith said.
On the men's side, Ferris took home the second thru fourth place finishes in the men's 1,500 meter run with junior Bill King (4:15.09), freshman Kyle Richardson (4:18.21) and senior Tyler Weedon (4:26.05).
In the 200 meter run, Ferris freshman Zachary Cross (24.16), junior Thomas Lyons (24.72) and senior Kyle Walch (25.19) finished in third, fourth and fifth place, respectively.
The Bulldogs took the top three finishes in the hammer throws as junior Lucas Johnson (49.87) won the competition. Ferris senior JJ Vandenburg (47.06) and sophomore Austin Grant (45.86) came in second and third place.
Ferris' men's relay teams also finished well, earning second in the 4×400-meter relay with a time of 3:52.76 and third in the 4×100-meter relay with a time of 45.47.
Despite the windy conditions, the Bulldogs were hot. Ferris captured 43 top-five finishes in its only home competition of the season.
Silversmith said, "I don't think the cooler temperatures affected anything, but our track is known to be a little bit windy. I think the wind could have thrown off a lot of the athletes."
Next up for the athletes of Ferris is the Hillsdale Invitational on April 13.