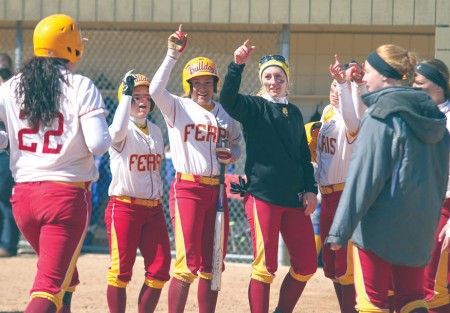 Two of the hotter offensive teams in the GLIAC faced off in back-to-back pitching duels Sunday in Allendale.
Unfortunately, Ferris State was unable to gain any traction against Grand Valley State's pitchers, as they were swept by the Lakers April 7.
The Bulldogs were at least able to get on the scoreboard in game one, scoring late but falling 4-2 despite senior pitcher Dana Bowler's complete game effort.
"We knew all along that they were going to be close games," Bowler said. "But obviously we wanted to come out on top both times."
Ferris State's sophomore shortstop Michelle Tononi was able to tie the score at one apiece in the top of the fourth, singling home Ferris senior first baseman Lindsey Pettit.
Yet the tie only lasted until the bottom of the fourth when Grand Valley broke it open, scoring the winning runs to pull ahead 4-1, surrendering just one more run to Ferris State in the top of the seventh.
"We were very close to cracking them the first game," Ferris senior centerfielder Morgan Kramerich said. "Against Santora, we were one big hit away from being able to come out on top; we had runners in scoring position almost every inning."
Bowler upped her game in the second half of the doubleheader, but her complete game one run effort was again stifled by Grand Valley's Sara Andrasik, who threw a no-hitter, striking out 10 and walking three in the process.
"The next time we face [Andrasik], we need to swing at the early strikes as opposed to letting ourselves get behind in the count and having to battle all of the borderline pitches," Kramerich said.
The losses halted Ferris State's eight-game win streak in its tracks, declining to 15-9 (8-4), which dropped the Bulldogs from second to seventh in the GLIAC.
Ferris faces a chance to climb the ladder, dueling the GLIAC's second place team in Northwood University (NU).
"We need to keep today with us and remember this feeling," Kramerich said. "But at the same time, bury it and get ready for the competition we have coming up this week."
The Northwood Timberwolves are on a five-game conference win streak, and are coming off a sweep of the Lake Erie Storm, in which NU outscored the Storm 16-1.
A 9-1 win capped the sweep and included home runs from four different Lady Timberwolves.
The projected game times are at 3:30 and 5:30 p.m. at home on April 10, though are subject to rescheduling due to concern of inclement weather.