The Rankin Center is hosting The Art of Architecture, an exhibit featuring the developing skills of Ferris architectural students.
The exhibit came from the mind of Paul Long, an assistant professor within the School of Built Environment. The exhibit centers around a senior design project called Small Town Studio, which challenges students with the task of rethinking and redesigning portions of Big Rapids.
"We hoped this show would act as a catalyst to introduce that [project] to the community and the university in general," Long said.
Seniors are graduating from the architecture and sustainability program, a relatively new program now in its third year. Its first graduating class will walk this spring.
Some students completely restructured downtown Big Rapids with new buildings and new street paths, while others designed solutions for new pedestrian and bike paths around the city.
The spring semester project for Small Town Studio required students to design and pick locations for a new community center in Big Rapids. Students traveled around town to find locations that might be feasible and then began designing their building.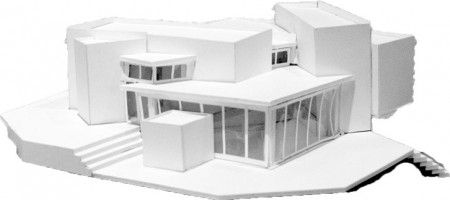 Evan Weaver is a Ferris senior in the architecture and sustainability program. He presented his community center on Friday to Long and Tom Nemitz, a visiting professor from Cornerstone Architects, an architectural firm in Grand Rapids.
Weaver's presentation represents the last step before the seniors present their final designs at the end of the semester.
"It's more hypothetical, but it's grounded in reality," Weaver said. "We have met with some people from city hall—the city manager, the director of public works—and presented what we're working on. We got feedback from them [about] what Big Rapids really wants."
Students will make their final presentations for Small Town Studio in the Rankin Art Gallery on May 3. Members of the Big Rapids City Council have been invited to view the designs.
The Art of Architecture will be in the Rankin Art Gallery until April 26. Students and community members can view the exhibit Monday through Friday from 11 a.m. to 5 p.m. and on Saturday from 11 a.m. to 3 p.m.