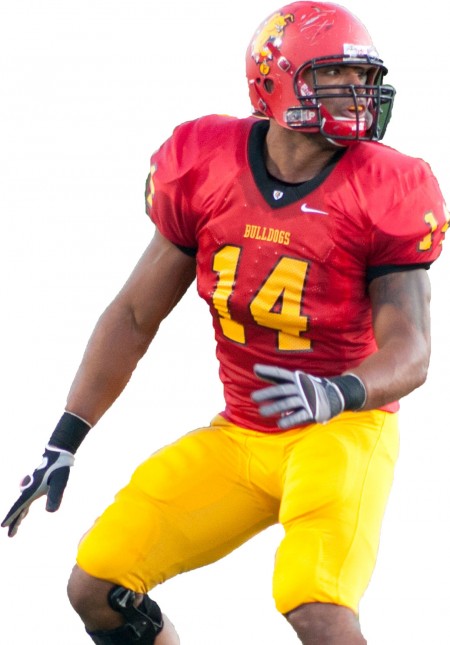 Jordan Morgan
Defensive End
#14
Q: First off, how did you first get involved with football?
A: I remember growing up and playing catch in the backyard with my dad and brother all the time, and then fifth grade came around and my school offered football, so my brother and I jumped at the chance.
Q: At what point did you know you wanted to play football professionally?
A: I think it's a dream of any kid growing up. It was a dream for a while, but it became a goal once I got a chance to play college football.
Q: Who was your biggest NFL influence growing up?
A: Being from Chicago, I grew up loving the Bears defense and how intense they always are.
Q: Mike Singletary or Brian Urlacher?
A: Brian Urlacher is more my time, but they were both great players.
Q: You had 10.5 sacks last year; did you see yourself being that successful in your senior year?
A: Absolutely. I had a goal to have at least one sack a game this year, and I only fell half a sack short. I had no doubt in my mind that it was a realistic goal.
Q: Do you try to beat an offensive lineman with your speed or bull rush them and beat them with your strength?
A: Speed first. Make them fear the speed so when they try to bail and catch the speed rush, you can then bull rush and then they are completely off balance.
Q: Have you attended any pro days or team workouts?
A: I went to the pro day at Grand Valley, and this past Monday (April 8), I had a workout with a scout from the Buffalo Bills here at Ferris.
Q: OK, let's venture away from football. What's your best memory from Ferris?
A: Just hanging out with the great friends I've made since I've been here.
Q: Favorite sport other than football?
A: I love watching track.
Q: Track? Running or field events?
A: Running for sure. The 400 and the 4×400 are awesome.
Q: What's the one thing most people wouldn't know about you?
A: A lot of people don't know I have a twin brother.
Q: Really? Do you guys have a lot in common?
A: Yeah, we both love sports and played college football. He played at Western Illinois University.
Q: What is your guilty pleasure?
A: A little embarrassing, but I am a big fan of the TV show "Grey's Anatomy."
Q: My girlfriend literally just jumped out of her chair and said she now loves you, home-wrecker.
A: I'm sorry, man.
Q: What would we find on your Netflix top 10?
A: "How I Met Your Mother." I watched six seasons in about a week, but other than that, probably a bunch of random movies.
Q: What's you pregame ritual? For me, I had to have my wrists taped exactly four times.
A: I throw up before every game. It just happens and my teammates always laugh at me about it.
Q: One last question: Where do you see yourself in, say, three years?
A: Playing in the NFL and being a contributor, if not a starter.