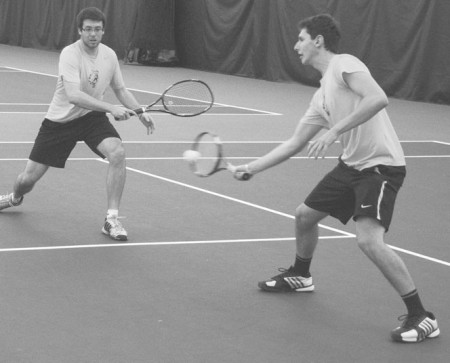 With a win over Grand Valley State on April 12, Ferris State men's tennis clinched a berth in the GLIAC tournament at 13-4 (9-2).
The team's final road trip was to Lewis (Ill.) on April 14, where it dropped its first four matches and proceeded to win five straight to take the set for their 13th win of the season.
Ferris senior Tyler Marengo noted that the team is strong from top to bottom.
"Everyone competes at a high level," Marengo said.
The Bulldogs have bared their teeth over the last three weeks in the GLIAC, with sophomore Laurent Galarneau and senior Sergiu Laza being named conference player of the week once each during that period.
Galarneau has been gaining notoriety in GLIAC circles as a sophomore. He boasts a career 25-12 record at the end of his second regular season.
Head coach Chad Berryhill is nearing the end of his first year in Big Rapids, a year in which he has led the team to a winning record, a top-four regular season finish in the GLIAC and seven 9-0 victories in 16 matches.
"I think I had a good year," Galarneau said. "I really like playing under Coach Berryhill."
Sitting comfortably in third in the conference, Ferris State will most likely play Tiffin in the first round when it heads to Midland this weekend, April 19-21.
"We feel pretty good about [the courts]," Galarneau said. "We did really good last year on those courts, so we're looking forward to the tournament."
The Bulldogs mopped Tiffin back on Feb. 22, winning 8-1 at home. The Bulldogs have been virtually unbeatable at home, with an undefeated 8-0 mark.
Where they have run into problems is on the road, with a .500 record of 5-4, though two of those matches were against Division I opponents in Western Michigan (0-7) and Toledo (3-4).
"I think Coach [Berryhill] does a great job of keeping us focused in preparation for big matches," Ferris senior Razvan Mag said. "Definitely a big part of success.
The two teams in the conference that sit above Ferris State are Northwood and Wayne State, both teams the Bulldogs could not overcome earlier this season.
"I think our team matches up well against any other team in the GLIAC," Marengo said. "After last year's performance, everyone knows anything is possible."