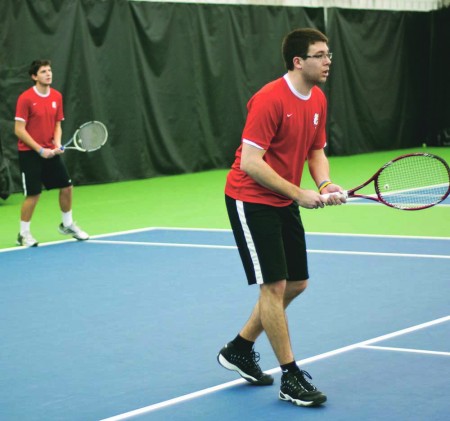 It ended with a thud. After advancing to its second GLIAC Championship, the Ferris State men's tennis team couldn't hang on for back-to-back conference championships.
A 5-2 loss at the hands of rival Northwood effectively ended their bid to repeat.
"The match came down to a couple of points," Ferris senior Razvan Mag said. "If we could've converted those match points, the outcome would have been very much in our favor."
Yet the news was not all bad. With a 15-5 record, the Bulldogs have qualified for the NCAA Division II Tournament. The tournament's selection show will air Tuesday evening, during which time the Bulldogs plan to do some team bonding.
"The team is all getting together for the evening," Mag said. "Going to have a team dinner and stream the selection show."
Last season, the Bulldogs advanced to the second round of the national tournament, where they were dropped 5-0 to Drury (Mo.) despite coming in on an eight-match winning streak.
"The Sweet 16 has been our goal since the beginning of the season and still is now," Ferris sophomore Laurent Galarneau said. "We were one match away last year, and we know we can do it this year."
This year they are coming into the tournament having won four of their last five matches, including the loss to Northwood with a few players that are peaking at the right time.
Mag was named GLIAC Player of the Week this past week. It's his second time earning the award in the last month.
Galarneau continues to climb the list of career victories as a Ferris State tennis player, as he now has 27 after the GLIAC Tournament.
Ferris senior Tyler Marengo is now sixth all-time in wins as a Bulldog with 44, after winning a match over Wayne State 6-0, 7-5.
With the week off, the team took Monday as an off day and then began training in preparation for the national stage.
"Many of us are beat up after the [GLIAC] tournament," Mag said in regards to their off day. "We hope to be able to practice outside this week as we expect to play the national tournament outdoors wherever the host venue is."
An added advantage is experience for the Bulldogs. Last year's second round exit included four of the current team's players; only Jack Swan and Steven Roberts left last year's team.
"With a lot of returning guys from last year, we know what to expect," Galarneau said. "And we all know that we have a team that can go far in this tournament."
This will be the second straight national berth for the tennis team. For updated information on where the team will head for the tournament, check fsutorch.com for details.