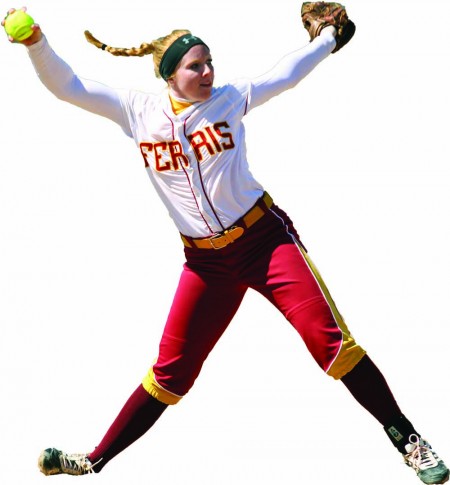 Seniors Morgan Kramerich and Dana Bowler have grown up together and are now sharing the spotlight for a successful Ferris softball team.
Hailing from Lockport High School, Ill., Kramerich and Bowler's relationship goes back 13 years to a third grade cheerleading tryout where both would end up making the squad.
"She was my flyer and I was her base," Bowler said. "There was a lot of traveling to games and competitions in cheerleading, and that's when we became good friends."
Two years later, they made the same softball team, then experienced high school together before eventually attending the same college in Ferris State University.
"I like the campus and really enjoy the atmosphere [at Ferris]," Kramerich said. "Dana does make it easier being so far from home, like any friend would. When I'm missing my family, I know she is going through the same things that I am."
Their relationship is as strong as their play, and Bowler and Kramerich are having two great seasons that are vital to Ferris' success.
Bowler sports a 13-6 record, with a sparkling earned run average of 1.45, while Kramerich has 27 runs on the season and an impressive .348 on base percentage.
The Illinois duo has had a major impact on the Bulldogs' impressive 20-12 record, and the senior leaders are still focusing on finishing the year strong.
"We need to focus on hitting on a consistent basis, and the season hasn't been the best for practicing since we have only had two outdoor practices this far," Kramerich said. "The goal is to win every game for the rest of the year, meaning sweeping Northwood, Findlay and Hillsdale, then winning the GLIAC Tournament."
While playing different positions, the familiarity on the diamond makes communication a bonus for the Bulldogs.
"As I pitcher I'm in the middle of the field, and it's easy to communicate back and forth with my team," Bowler said. "Morgan is an amazing athlete that has great speed but even better instincts, and I've never played with someone so good of a base runner. When she's supposed to be at second, she's already at third!"
Kramerich has already notched eight stolen bases throughout this season, while not hitting into a single double play.
Bowler and Kramerich along with the rest of the Bulldogs have three series remaining in the 2013 season before heading off to the GLIAC Tournament.
They'll now be focusing on being ranked in the top eight in the region for an NCAA Tournament berth.
Ferris has one more road series before returning to Big Rapids on April 26-27 to finish out the 2013 regular season.