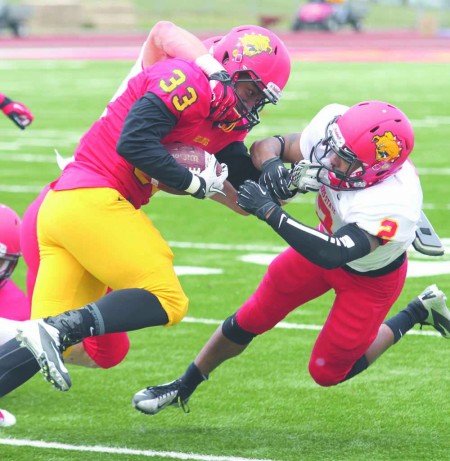 The future looks bright after the annual Crimson and Gold Spring Football Game, as both sides of the ball were successfully showcased.
The Bulldogs hit Top Taggart Field on April 20 for the first time this year, as the Red and White Teams faced off in a scrimmage style tune-up game. Even though the outcome was lopsided, with the White Team shutting down the Red Team 50-14, both offense and defense showed improvement and potential for the upcoming season.
"It was nice to get back into the swing of things," Ferris junior defensive end Carlton Johnson said. "I felt that it was very productive overall, and on defense, we did make a couple of mistakes, but still not bad overall."
Johnson, a JUCO All-American transfer from Grand Rapids Community College, came to Ferris along with head coach Tony Annese, but couldn't play last year due to the NCAA transfer rule. Johnson will help anchor a stout defensive line that lost two standout players in graduating seniors and pro hopefuls Jordan Morgan and Brad Iskow.
"I feel like we can be the best defense in the country if we play to our ability," Johnson said. "We just have to ball out every time we are out there."
On the offensive side of the ball, the White Team dominated the field with an aggressive running game and a solid passing performance by junior quarterback Taylor Masiewicz.
Masiewicz and sophomore Trevor Bermingham, who led the Red Team, will be in the mix for the starting quarterback role this off-season in lieu of an injury to last year's explosive signal caller, sophomore Jason Vander Laan.
Vander Laan led Ferris State last season in rushing yards per game (121.6) and touchdowns (16), while helping lead the Bulldogs to a 7-4 overall record. Following his recovery, Vander Laan will compete against Masiewicz and Bermingham for the starting quarterback position and help to improve upon an already versatile offense.
"The quarterback situation will be very fun to watch," Ferris senior running back Korey Ringer said. "They are all dual threats in their own respective way, and when all are healthy, they're all dangerous."
The Bulldogs look to continue their already stellar off-season, which includes the addition of former Western Michigan head coach Lou Esposito as defensive coordinator, and one of the best recruiting classes in Division II football.
"We have worked extremely hard in the off-season, and have made big improvements towards reaching our full potential," sophomore running back Kitwana Clark said. "Come fall, I believe you guys are going to see a team with more intensity, consistency and overall a better team than we were last year. It's a new year, a new season and a fresh start for the Ferris State Bulldogs."