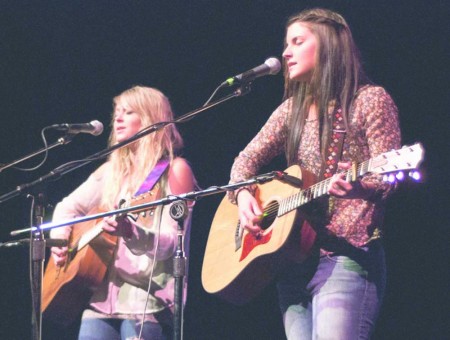 An excited crowd filled Williams Auditorium for the premiere of Ferris Has Talent.
"I've never seen anything like this before, and it was just phenomenal," Samantha Gallup, Ferris freshman in early education, said.
Trevor Charles took the stage for the first time with the support of his family. After making sure his mother and brothers were in the audience, he sang, a capella, "Little Things" by One Direction while the audience clapped along. Despite his nerves, he was able to finish the song and gather positive feedback from the judges.
The judges for the night included Dr. Nancy Lashaway from the Education Department, Dean Leroy Wright of Student Life, and Byron Williams, former Student Government president.
Ferris student Andie Ancevski also took a risk up on stage.
"I was shaking like crazy off to the side. It was the first time I'd ever just sang and played the guitar by myself," Ancevski, senior in healthcare system administration, said.
Her controlled, confident voice boomed through the auditorium and captivated the audience with her rendition of "Caught in the Storm" off of NBC's show "Smash."
"I am caught in your storm," Williams responded.
There were not only vocal performances during the event, but some entertaining dances as well. One group, Ill Creatures, rocked the house with their high energy dance moves. And the Swag Boys, despite some technical difficulties, were able to deliver their animated solos to an excited audience.
"You really shook what your mama gave you!" Wright exclaimed.
To end the evening, Angel Garcia, Ferris junior in automotive management, graced the stage with his rendition of Bruno Mars' "When I Was Your Man."
His voice and acoustic guitar flowed together effortlessly, and the emotion he brought to the song left the audience wanting more. When Garcia finished his set, some members of the crowd gave him a standing ovation.
"I've never performed on stage before, but it was by far the most fun I've had playing music," Garcia said. "Ferris Has Talent was probably one of the best highlights of my college career so far."
Overall, the audience reaction to the event was extremely positive. Maybe Ferris will see a second "season" in the future.
"The show was awesome," Ariel Leaym, Ferris freshman in graphic design, said. "I wasn't expecting so many talented people."