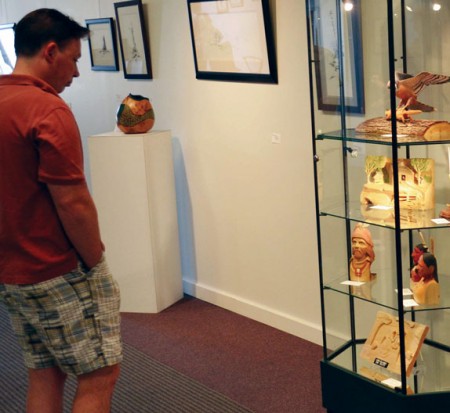 Tubing, tubing, all the time
Tubing is as close to a required summer activity as there is in Big Rapids. Activities on the river—tubing, canoeing, and kayaking— are the go-to outdoor fun for Big Rapids residents. Nature is the town's biggest selling point. Michigan's second longest river, the Muskegon, cuts through town, and businesses such as Sawmill Tube and Canoe cater to the widespread desire for a long float that's brought out by the summer sun.
Disc golf
Northend Riverside Park offers a more dry outdoor option. The park's disc golf course offers casual fun and a walk with friends in the sun, with only a single disc required. A number of players take the game seriously, toting along large bags packed with a variety of discs—and there are a number of different kinds—who have taken to the 18 hole course time and time again. No experience or overly competitive nature is required, though—just a disc.
Take a waLk
If the river seems too wild and disc golf far too tiring on those backpack-sore shoulders, take a simple walk through an area with more wilderness than many other college towns. Stroll along the Riverwalk and watch all those poor, soaked water sports fanatics.
Intramural sports
By press time, Ferris will have released all the registration information and dates for the college's intramural sports. For slightly less high-stakes participation in sports, summer soccer and other sports will be offered for the athletics-starved students still in or around campus.
Schuberg's burgers
Schuberg's Bar and Grill is just one of Big Rapids' establishments offering either bar or grill, but it's the go-to for burger recommendations. With a burger menu rivaling Pepper's sandwich menu in size, including options for vegetarian customers, the downtown diner's burgers are often, if not always, the first food recommended to those new in town.
Tooth-rotting goodness
Few things are quite so mouthwatering as a candy shop, and Kilwin's is one of the places dentists' nightmares are made of. The store, also in the middle of downtown, offers treats made from everything from chocolate to pretzels to ice cream. If that weren't enough, ice cream is available in many places, including both an old-school A&W and an old-school walk-up Dairy Queen.
A tune or two to tap your toes to
Every town, no matter how big or small, offers music. Big Rapids has plenty from both on and off-campus all year round. Whether it be the concerts downtown, the Wheatland Music Jamboree or the regular entertainment at eateries like Crankers, local music can be found all over town. We even have a music shop in Quinn's, where they actually know what they're doing.
Retail-free food
Good weather means the return of the farmers market. Beginning again May 28 in the parking lot south of City Hall, the weekly event will give people a chance to buy produce and other farm fare from local farmers.
A night on the town
Some like their nights illustrious; others prefer simple, quiet fun, but it's good to get out regardless of the adjectives associated. Whether it be a drink at The Pub or a dinner downtown, it's healthy for residents to hit the town for some good, legal fun—whatever that good, legal fun may be.
Animal Shack
The local pet store of largely glowing reviews from both on- and offline customers offers more than just the fish at the retail outlet, including reptilian animals with the potential to grow quite large. It's worth at least a few steps outside the norms.
Artworks and other art
Big Rapids is no big city; the artistic or creative options are unfortunately fewer simply due to a smaller population of people and a larger population of pesky wilderness things. There are still options, though, for the mind starved for art, whether that art be oral, visual or brought up on a screen. Artworks is just one of the places to offer creative outlets—even more than just simple "artwork."