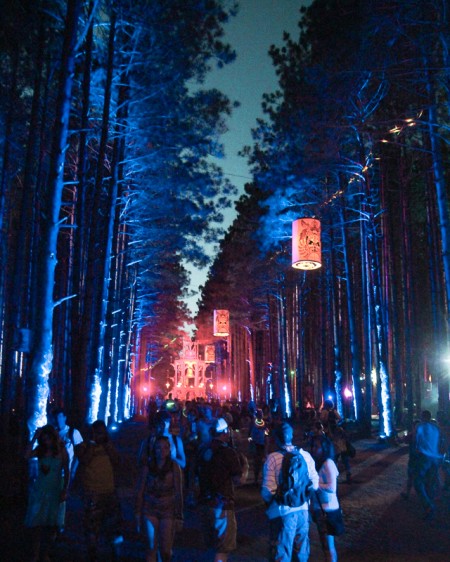 "I've never experienced anything like it" remarked recent Ferris graduate Erika Derylo. And it takes place just down M-20 west of Big Rapids.
Over 30,000 festival goers camped out at the Double JJ Ranch in Rothbury for Electric Forest festival. About 100 artists performed across five stages including headliners The String Cheese Incident, Passion Pit, and Pretty Lights.
The four-day festival included performers from a variety of genres but with a focus on electronic and jam bands. Attendees from nearly every state made the trek to West Michigan to join the festival in the forest.
One of the more awe-inspiring sections of the festival grounds was the Sherwood Forest, a wooded area with various art installations and light displays to dazzle the crowd. "At night, it looked like a make-believe world" said Erika Derylo.
One art installation for the crowd to the SolLun which was set up as a Western speakeasy constructed out of material found in the surrounding area. Inside, visitors would take part in improvisational comedy, skits, and music that created house party inside the larger festival.
Another section wouldn't catch your ears as you walked past, but that's because you're not listening to it correctly. The Silent Disco allows attendees to listen to the live DJs with headphones, which had two channels so the sea of people would be moving to two different beats.
Electric Forest is an experience that's tough to contextualize into words, so be sure to check out the photo gallery below.