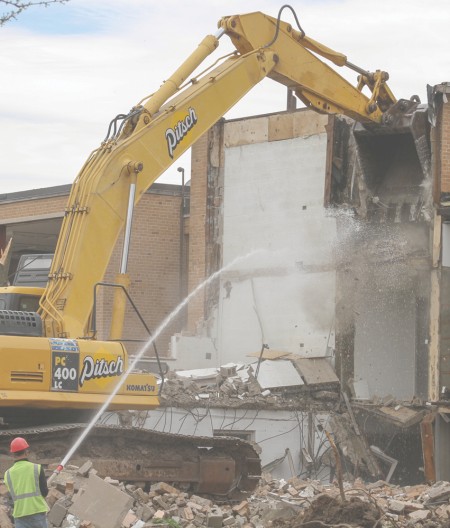 Nothing says "Michigan" quite like expansive construction projects in highly trafficked areas.
Fortunately for Physical Plant Associate Vice President Mike Hughes, the renovations on the Rankin Center are moving along as planned and on the set pace, and will not stretch into 2015.
"We're in the demolition stage and that's moving along on schedule," Hughes said. "Project completion is looking like December 2014 still. We're also working on utilities for the new buildings which should be completed during the fall."
Not only does it appear the project will be done on time, but construction workers are also looking at a long haul through the bone chilling Michigan winter.
"There will be absolutely no break," Hughes said in regard to the winter.
The only clear issue is a steam line that will need to be replaced, and the materials are eight to 10 weeks away from being completed. The temporary road between Rankin and Swan will be closed during that time and may cause some traffic issues. Hughes estimated the road will reopen as students head home for Thanksgiving recess, if not a week earlier.
One of the lesser known pieces of the project is its informative website, where students can even watch the project unfold in front of their eyes.
"I would encourage students to look at our project website," Hughes said. "There is a lot of information about the project including two web cameras that are strategically positioned."
The webpage includes the initial surveys taken amongst the students, faculty and community on the priority of what needed to be included in the new University Center.
One of the many goals of the new University Center includes making it an architectural anchor of the campus similar to the likes of which FLITE and the Optometry Building provide.
The architectural modernization of Ferris has taken over a campus that students have groaned is "outdated."
"It was just an old building, kind of dark and outdated," Ferris sophomore music industry management major Brandon Miller said. "I'm excited to see a new, more visually appealing center go up."
As many students hope, the building will be completed sooner rather than later.
"It's supposed to be done midway through my junior year," Miller said. "It would be a shame if it was delayed too long and I never really got any use out of it."
The project, as well as being on target for its December 2014 completion, is also currently on budget, according to Hughes.
The building includes another Starbucks as well as more space for student organizations.
The University Center's project website can be found at ferris.edu/UCRenovation.