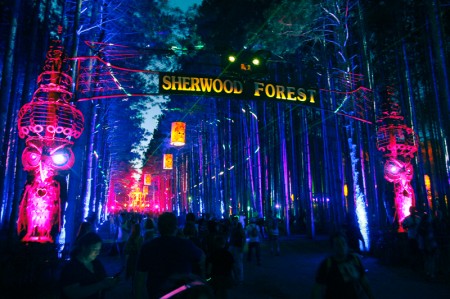 More than 30,000 festival goers camped out at the Double JJ Ranch in Rothbury for Electric Forest 2013, a huge music festival held every year.
"I've never experienced anything like it," Ferris graduate Erika Derylo said. And it takes place just down M-20 west of Big Rapids.
About 100 artists performed across five stages, including headliners The String Cheese Incident, Passion Pit and Pretty Lights.
The four-day festival included performers from a variety of genres, but with a focus on electronic and jam bands. Attendees from nearly every state made the trek to West Michigan to be at this festival.
One of the more awe-inspiring sections of the festival grounds was the Sherwood Forest, a wooded area with various art installations and light displays to dazzle the crowd.
"At night, it looked like a make-believe world," Derylo said.
Like most music festivals, it was about so much more than just the music.
Various art installations were set up for attendees to observe. One piece was the SolLun, built as an old Western speakeasy and constructed out of material found in the surrounding area in a week's time. Inside, visitors would take part in improvisational comedy, skits and music, creating a house party inside the larger festival.
Another section wouldn't have caught your ears as you walked past, because you weren't listening correctly is The Silent Disco. This area allowed attendees to listen to the live DJs with headphones, which had two channels so the sea of people would be moving to two different beats.
The thing about music festivals those unfamiliar might not know is that you share a unique connection with the people you meet at these very singular events. No one cares about how grimy you may be from your lack of a shower in several days after being in the heat because everyone else is just as gross.
My festival was shared with a group from Wisconsin I camped beside that let me join in their clan. By the end of the festival, I was practically an honorary Cheesehead.
There's nothing quite like life in the Forest; you'll leave a much different person than the one who entered.