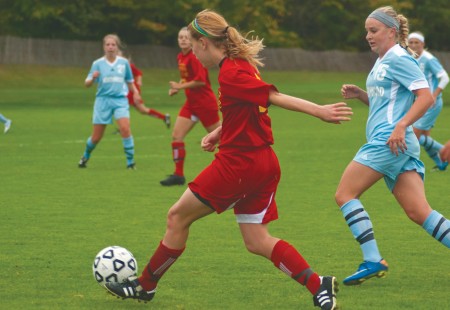 The Ferris State University women's soccer team is preparing for tough opponents with the next two home games against Madonna and Northwood.
In the 2012 season, the Bulldogs won in overtime by a score of 3-2 against Madonna and won in double overtime by a score of 2-1 against Northwood.
Both match ups are expected to be close again this season, with the Bulldogs ranked sixth in preseason polls.
"The preseason ranking definitely does not reflect the goals we are setting for ourselves this season," Ferris head coach Andy McCaslin said. "Although I think we should have been ranked higher, it is just another reason to come out hard and prove we are a top-three team."
McCaslin and the Bulldogs faced off against Northwood in a preseason game on Sept. 8.
Before the game, the team hosted a fundraiser called 'They Often Cry Outreach,' which is a non-profit organization that has the objective to support and provide community organizations, youth programs and under-funded public schools with soccer balls, equipment and other gear to encourage children of all ages to engage in soccer programs throughout the Caribbean.
The goal of TOCO is to encourage children to choose sports over street violence and drugs.
Bulldog fans brought new and old equipment (balls, shin guards, socks, cleats, etc.) to donate.
"We are hoping to help as many kids as we can," Ferris junior midfielder Stephanie Garland said.
The Bulldogs are ready to prove themselves this season, not only against Northwood but against Madonna as well.
Ferris made it to the semi-finals of the GLIAC tournament last year, so they are expecting nothing less again this year.
The Bulldogs will face Madonna at 4 p.m. on Friday at home and Northwood at 1 p.m. on Saturday at home.