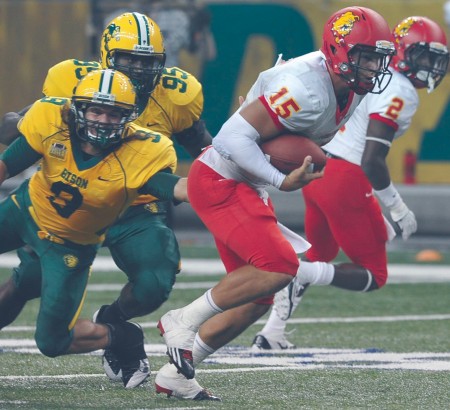 The Ferris State Bulldogs will battle against Lake Erie College in Ferris' first home game of the season.
The Bulldogs (0-1) suffered a 56-10 defeat at the hands of two-time defending FCS champion North Dakota State in their first match up of the year.
Head coach Tony Annese allowed his players to stand watching the banner raising in the Fargodome. Annese told players in a video feature of the game to "internalize the vision" of what it meant to be a champion.
"I think we're a better team for going to North Dakota this year than we were coming off a win at St. Francis [Ohio] last year in week one," Annese said.
The team will look to get its first victory of the season against a team they have beaten three years in a row.
"It should be exciting" Ferris sophomore quarterback Jason Vander Laan said. "It will be nice to play at home with our fans, and we're looking forward to the success we believe we can have in our conference."
Vander Laan threw for 135 yards and a touchdown in last year's 49-21 win against Lake Erie (0-1) while also rushing for 35 yards.
In last season's match up, it was Ferris junior quarterback Taylor Masiewicz who shined against the Storm, throwing for 145 yards and three touchdowns.
Ferris' defense is looking to have a bounce back performance. The defense allowed eight touchdowns in their previous game against NDSU.
"The ten GLIAC games from here on out are must wins," Annese said.
The Bulldogs have not allowed more than 21 points in their last three match ups against the Storm.
"I think we are a good team," Ferris junior defensive end Carlton Johnson said. "We just need to improve on our defense. If we do that, we are going to win."
With Lake Erie coming off a crushing last-minute loss to rival Gannon College, the Bulldogs hope to add another tally to the Storm's loss column.
"I feel we are going to go to work this week and come out strong," Ferris red shirt freshman Kitwana Clark said. "It's the home opener. It's the first time Ferris and the Big Rapids community will get a chance to see what we have to offer this year. We will come ready and even more focused than we were for the first game. This is the start of GLIAC play for us, and I believe we will put on a good show."
Ferris will pad up against Lake Erie at 7 p.m. on Saturday at Top-Taggart Field.