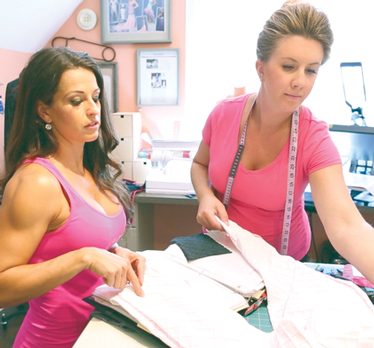 A Ferris alumna is campaigning for her revolutionary new sports bra with the help of Kickstarter, the much buzzed about website for creative startups.
Sara Moylan, a Big Rapids native, has just recently launched Shefit, an athletic apparel line with a whole new type of sports bra. The business started in local Grand Rapids with the help of Kickstarter, a website designed to bring attention to creative projects for crowdfunding.
As of Saturday, Moylan's Kickstarter campaign has reached 165 backers, and $15,068 has been pledged of the $18,000 goal. The Kickstarter campaign has just over two weeks to go.
The Shefit sports bra is different for many reasons. First, Moylan recognizes that all women are created differently. The straps, one inch wide to provide support, also come with 15 inches of Velcro adjustability to give women the perfect fit based on the exercise. The sports bra also zips up the front for easy changing.
Where Shefit really becomes unique is with the two inch band width. Moylan mentioned that many of the sports bras out there are just missing the mark – and this is why: The two inch band, if fitted properly, will stick to the rib cage, providing extra support and taking some of the weight off of the shoulders.
"I would wear it. It looks very supportive, unlike the sports bras I wear now. Also, it's super cute," Ferris freshman volleyball player Kaley Konjarevich said.
Moylan has been an athlete all her life. She was Miss Michigan Teen USA back in 1999 when she attended Ferris State. Upon leaving pageants, she started competing in fitness competitions. In 2011, Moylan went professional as a bikini competitor and continued on to be ranked third in the world.
Unfortunately her sports bra couldn't keep up with grueling workouts and four pregnancies.
"Everything I used or was using was okay. It was doing the job," Moylan explained. "Basically I just started playing around with some things I was using."
She created a prototype by cutting up sports bras, designing it how she wanted, and hot gluing them together. Eventually she contacted a local seamstress for some assistance, and she has now been wearing the prototype for the last five years.
About a year ago, Moylan decided to leave her job as a pharmaceutical rep to pursue Shefit. With the help of a USA manufacturer and design team, she has been able to bring the Shefit bra to the next level. The sports bra is even backed by local plastic surgeon Dr. Brad Bengtson.
The Shefit sports bra will retail around $70-80. Kickstarter provides rewards at smaller levels, but the Shefit bra is only available starting at that 80 dollar level.
Looking ahead, Moylan has some large goals for Shefit.
"I really hope it changes the way women are able to work out. I hope that they put on this bra and breathe a sigh of relief," Moylan explained. "My goal is we get this bra into the hands of women and girls everywhere."