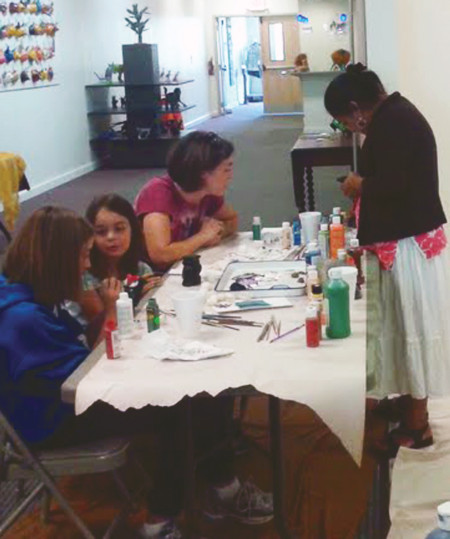 In the absence of the Rankin Art Gallery, Ferris State has had to relocate its art displays to Artworks in downtown Big Rapids. The current collection on display, "Creatures Great & Small: The Rich Tradition of Oaxacan Art" showcases a unique branch of Hispanic art unheard of by most north of the border.
In partnership with the Office of Multicultural Student Services, Carrie Weis, director of the Rankin Art Gallery, received a grant in order to bring the exhibit to Ferris' campus as part of Hispanic Heritage Month. Weis says she wanted to bring the exhibit to Big Rapids to show off the distinct style of Oaxacan art.
"Part of my job is to bring art here that people don't see every day", said Weis. "And especially with this collection and how talented the [artists] are, I feel this exhibit has a lot to offer to the community, so thankfully, with [the] help of OMSS, we were able to bring it here."
The first of two interactive workshops run by the exhibit's featured artists, Jacobo and Maria Angeles, was held in the Upper Gallery of Artworks and allowed community members to try their hand at painting in the Oaxacan style.
Jacobo and Mario Angeles have built a family business around creating carved wooden animals decorated in the Oaxaca style. The process begins with the copal tree, which is usually carved into the shape of an animal. As Jacobo Angeles describes it, the nature of the animal is dependent on the trees curves and imperfections.
The painting process can be likened to chemistry, as true Oaxacan art is painted with ground pigments, limestone, and citrus fruit, all combined in such a way as to make just the right color. Once the base paints are added, the tip of a cactus thorn is used to draw intricate designs on the figurine.
"There are other people who do Oaxacan art," said Weis, "but nobody I could find did it quite like the Angeles do it."
The Angeles also held a demonstration of the creation of Oaxacan art in the lobby of the Interdisciplinary Resource Center on September 16th from 1-3 pm. On September 25th from 1-4 pm, a workshop in which students can participate will be held in IRC 134.. Students who attend the workshop will learn how to create paint and decorate their own figurine in the Oaxacan style.
In addition to the workshops, a separate collection on loan to Ferris from Jack and Susan Batdorff will be available for viewing all around Big Rapids. The collection can be viewed at both FLITE and the lobby of Williams' Auditorium, as well as the Artworks Upper Gallery, open Tuesday through Friday. The exhibition will be in Big Rapids until October 31st.