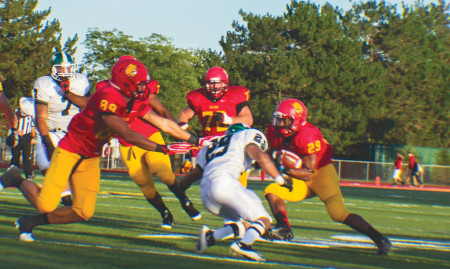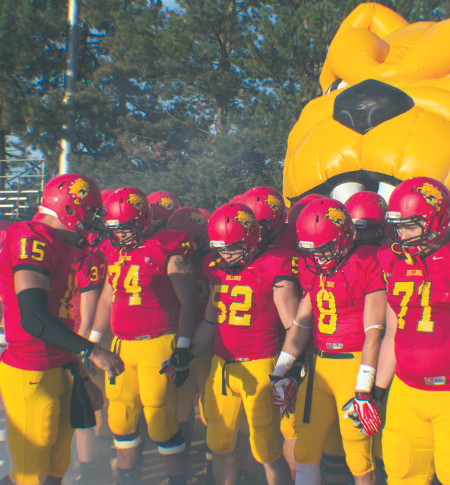 The season is still young as Ferris State hopes to start league play at 2-0 when they travel to face Ashland University.
The Bulldogs (1-1) got off to a good start in the Great Lakes Intercollegiate Athletic Conference (GLIAC), winning their first league game against Lake Erie 56-49 in a shootout-style home opener.
Ferris hopes to feed off their first win and grab their second of GLIAC play against the Ashland Eagles (0-2).
Ferris will first need to tighten up their defensive unit if they plan to succeed going forward. The Bulldogs have allowed 105 points and 1,039 total offensive yards in their first two contests alone.
"We can't overlook anyone.We must clean up the mistakes," Ferris junior defensive back A.J. McEwen said. "The biggest thing is to stop missing assignments. That is the only thing holding the defense back. If we can do that, then we can be a very good defense."
McEwen, who switched from receiver to corner during summer training camp, had Ferris' only forced turnover against Lake Erie when he caught two interceptions. He will continue to play an integral role in Ferris' defense.
Offensively, the Bulldogs will have to keep their explosive, veer-style attack in full motion as they look to keep defenses on their heels. The offense, led by Ferris sophomore quarterback Jason Vander Laan, was able to put up great numbers in their first GLIAC matchup. The offense racked up 571 yards and scored eight touchdowns, seven of which belonged to Vander Laan.
"He's quite a weapon," head coach Tony Annese said. "We call him 'the terminator' because he's a big ol' 'run over you' kind of guy. They basically have to set their defense to stop him from running the ball."
Ashland should be an effective gauge to how good Ferris' offense truly is. The Eagles' defense this season has forced four interceptions and allowed an average of 22.0 points per game. Ashland's defense is led by senior linebacker Cody Bloom, who boasts a GLIAC-leading 13.0 average tackles per game.
On the offensive side of the ball, the Eagles, led by junior running back Anthony Taylor, are solid on the ground. Taylor rushed for 220 yards and a touchdown in Ashland's 34-22 loss to Wayne State.
If Ferris can keep the chains moving on offense and solidify their defense, the Bulldogs can put Ashland to the test and make a good run in the GLIAC.
"You have to come into every week knowing there are no easy games," Vander Laan said. "We want to prove to the nation what we are going to be like this year. You just have to come into every week knowing that anything can happen. You can't overlook any opponent." Ferris will face Ashland Saturday, Sept. 21, at Jack Miller Stadium in Ashland, Ohio, with kickoff at 7 p.m.