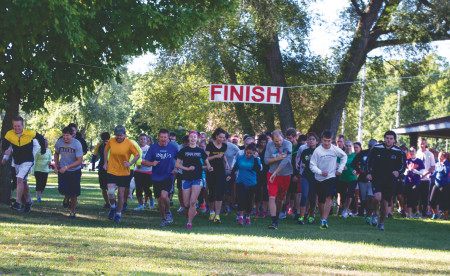 Ferris State University students, faculty, staff and community members, including President David Eisler, gathered together to participate in Rx Run for Free Clinic to promote Hope House, a free pharmacy clinic.
The National Community Pharmacists Association (NCPA) hosted the event which took place Saturday at Hemlock Park and boasted 125 registered runners. This marks the first year for the event, but the NCPA are hoping to make it an annual occurrence. The event cost was $20 to register. All of the proceeds from the event go towards providing free vaccines, flu shots and diabetic testing supplies.
With a new location on the east side of Big Rapids, Hope House has been helping local patients with no health insurance receive pharmacy services for almost six years.
"The clinic is for people that don't have health insurance and don't meet federal poverty lines. They can go to the clinic to get free select medications," Ferris second year pharmacy student Michelle Sahr said.
Ferris second year pharmacy student Lauren Steinhaus said the 5k was chosen for the fundraiser as a healthy way to promote the clinic.
"We thought the 5k would be something that could get a lot of people involved because you could walk or run in it," Steinhaus said. "Instead of just asking for money, people can participate."
On Founder's Day, Eisler, an avid runner, was asked to participate in the event.
"This was my first 5k," Eisler said. "I usually run marathons or half marathons, but I think this is a really positive thing for the community and the pharmacy."