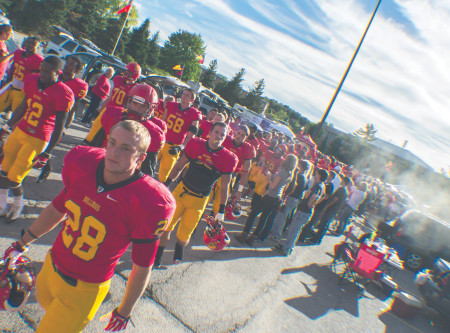 The parking lot at Ferris State was booming with excited fans who were ready to welcome the new football season with a tailgate.
Approximately 100 students, faculty, staff and community members came together to celebrate the first Ferris home football game of the year. Attendees tossed footballs back and forth, played cornhole and socialized.
Ferris sophomore pro golf management major Zeke Fulgencio predicted a good season for Ferris football.
"If Ferris wins today, I think they'll have a good year," Fulgencio said.
Ferris defeated Lake Erie College with a final score of 56-49.
For some students, this was their first tailgate at Ferris State.
"I've never tailgated here, only at Grand Valley," Ferris junior Jenna Bailey said. "The fans aren't as involved here."
Ferris junior psychology major Jason Wozniak has tailgated a little in past years, at not only Ferris, but other universities, as well.
"Let's be honest though, I'd rather be at U of M," Wozniak said. "I like the size of the crowd and the friendliness there."