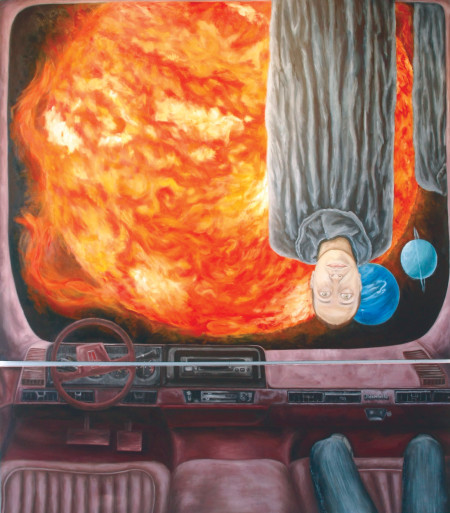 ArtPrize is underway, and for one Kendall student, it's everything she'd hoped for.
The massive annual art competition began on Sept. 18 and will run through Oct. 6, taking over much of Grand Rapids. Independently organized and publicly voted upon, the event will occupy 169 venues throughout the city with the work of nearly 2,000 artists.
One of those venues, the Boardwalk Condominiums on Monroe Avenue, is where the work of Kendall graduate student Brianna Baurichter can be found.
Before ArtPrize, venues and artists negotiate the displaying of the artists work in a process called "Connections." Baurichter, who reached out to several venues simply looking for one that would be displaying paintings indoors, struck gold.
"I got a whole hallway," Baurichter said, openly excited. "I hit it off with the lady who owns the building, Kelly Crawley. A lot of artists at her building had like, one piece up, and I got to put up twelve pieces."
Those twelve pieces are all a part of a series, one well-suited for lining a long, low hallway.
"I submitted a series of paintings under the main title of 'Awakening.' They're all oil paintings, mostly on canvas, some on panels. They're related to a study of dreams, but it's more broad [than that]. Dreams, hallucinations, altered perceptions, layering realities with those things that seem a bit surreal."
Baurichter began applying for ArtPrize when she was still in Chicago, after deciding to follow her time at Columbia College with postgraduate studies at Kendall.
"I met Jay Constantine [Kendall professor and artist] at portfolio day in Chicago. I saw his work, I saw faculty work, I saw student work, and I loved it," she said.
She went on to explain how, though there's a perception that Kendall is more concerned with conceptual and contemporary art, it was one of the most supportive programs of traditional painting that she'd encountered.
"Every other grad program for fine arts… they really don't care if you know how to paint or not. Yale is the number one painting program in the USA, but I'm not impressed. I've not really seen work from them that I really appreciate."
The choice has been the right one thus far, according to Baurichter. Though she still has three more years – and three more ArtPrizes – the program has already been helping her improve. Not many other art students have the opportunity to be part of one of the most renowned international art competitions, and to have it happening right their in their backyard.