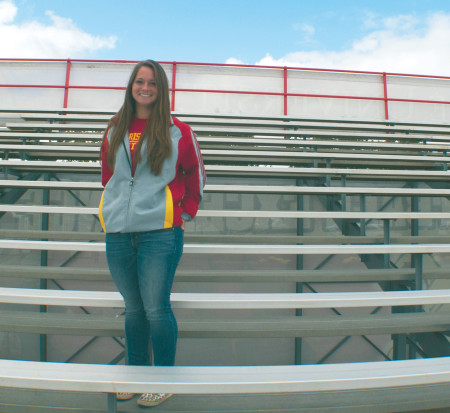 There are two types of college athletes: ones that are given scholarships and ones that are not.
Walk-ons are college athletes who did not initially receive a scholarship for a myriad of reasons but tried out and made the team.
Jordan Maxwell, a junior outfielder from Prescott, was one of the few college athletes who made it as a walk-on. Maxwell tried out for the Bulldog varsity softball team her freshman year and has since become an integral part of the team since.
Maxwell grew up in a small, family-orientated town where she played many different sports, including volleyball and basketball. She eventually decided to go to Ferris, not only for their nursing program but for a chance to become a college athlete.
"Coming from a small town, it is very difficult to get recruited," Maxwell said. "I was excited and nervous about trying out, but it was always my dream to play college softball."
Just because a student athlete starts as a walk-on does not mean they will never be able to receive a scholarship in the future.
"I worked hard to better my skills, started contributing in games, and I think my coach thought I deserved to be granted a scholarship," Maxwell said.
Most student athletes who walk onto a team are trying out because of their passion for the sport and many would play every single year, even if they were never able to earn a scholarship.
After making the team her freshman year, Maxwell was told she would not be receiving a scholarship. However, she was told that there was an opportunity for her to earn one in the future.
The summer before her junior year, her hard work paid off, and Maxwell joined the elite ranks of scholarship athletes.
Her dedication was evident to her coach and teammates.
"Jordan [Maxwell] is a person that never gives up," Ferris senior pitcher Amy Dunleavy said. "She comes into every practice and leaves a better player. It would be hard to find someone who works harder than she does."
Money isn't everything though. Maxwell said her first two seasons as non-scholarship athlete were rewarding for different reasons.
"I gained a great group of friends and got to travel to Florida and other neat places, all while playing the sport I love," Maxwell said.
If Maxwell would not have made the team her freshman year, she would have tried out for the club volleyball team and maybe tried to get a part time job while working toward her Spanish minor and waiting to be accepted into the nursing program.
Even though the season is still months away, Maxwell and the rest of the softball team will be working hard to prepare themselves to compete in the GLIAC and make it past their result of last seaon, where they lost in the NCAA Midwest Regional.
"To anyone that wants to tryout for a college sport, be prepared for everything that gets thrown at you," Maxwell said. "You must show the coach that you have a good attitude and are very coachable. Take advantage of the chance you have." ///