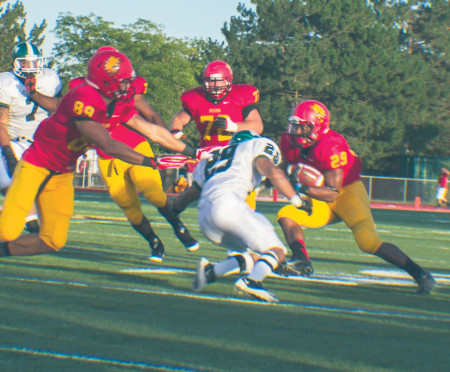 Ferris State will travel to Walsh University to take on the Cavaliers with hopes of staying undefeated in GLIAC play.
The Bulldogs (2-1) moved to 2-0 in Great Lakes Intercollegiate Athletic Conference (GLIAC) standings following the defeat of Ashland, last year's GLIAC champs. Ferris now sets their sights on Walsh (1-2) as they look to stay undefeated in their division and make an early push for conference contention.
The matchup between the Bulldogs and the Cavaliers will take place on one of football's oldest and most prestigious fields, Fawcett Stadium, located in Canton, Ohio.
The stadium is in the same neighborhood as the Pro Football Hall of Fame, and is the field where the annual NFL Hall of Fame Game takes place. Fawcett, which opened in 1938 and seats over 22,000, has been the home of some of football's most memorable moments.
"I think it will be a great experience playing at the Hall of Fame stadium," Ferris sophomore linebacker Justin Zimmer said. "I don't think it should be different than any other game. It doesn't really matter where we are playing. I'm looking forward to Walsh, and our keys to winning are playing our own game and focusing on our own assignments."
Ferris will be looking to further expand on their defensive performance against Ashland, where they held the Eagles to 269 yards and only one score. The Ferris defense has been led by a trio of play-makers: senior safety Marvin Robinson, junior corner A.J. McEwen and junior defensive end Carlton Johnson.
"We have the ability to put on a strong defensive performance when we are on the same page," McEwen said. "We just need to take the same approach as we did this week [against Ashland], but still clean up a few mistakes."
Offensively, the Bulldogs will need to keep the ball rolling as the offense has seen little resistance lately. Ferris put up 90 points on 1,113 yards in just their last two contests.
"[Walsh] was the team that last year stymied us the most. We struggled against them moving the ball," head coach Tony Annese said. "We're gonna have to do a better job of moving the ball. They have a lot of defensive guys coming back."
As long as Ferris continues to gel, they should be able to climb back to the top of the GLIAC.
"When we play as a team, for one purpose, one common goal, we will be successful and we know what we are capable of," Ferris junior receiver Jake Lampman said. "If we all feed off each other's intensity, if we trust in the system and execute our individual jobs, we are pretty hard to beat."
The Bulldogs will face off against the Cavaliers at Fawcett Stadium located in downtown Canton, Ohio, with kickoff scheduled for 6 p.m.