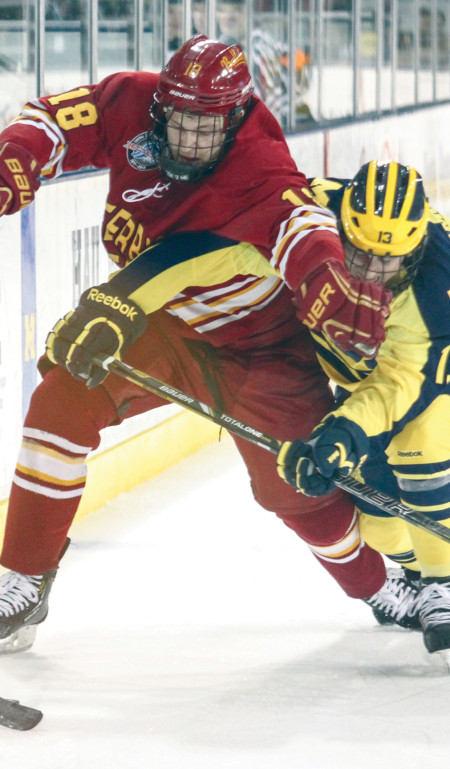 The calendar has finally flipped to October, therefore hockey season is upon us.
For the students and citizens of Big Rapids, this means a return to our one and only Division I sport.
Following a historic 2012 campaign, the Ferris State Bulldogs took a step back, finishing 16-16-5, with a 13-12-3 mark in the final CCHA season.
Following the disbanding of the CCHA, Ferris State became a member of the Western Collegiate Hockey Association, and was preseason ranked second overall, behind Minnesota State University.
This season's cast of Bulldogs hosts a defensive core where last season shut down some of the CCHA's top offensive casts.
Ferris senior Scott Czarnowczan, junior Jason Binkley, and sophomores Simon Denis and Zach Dorer will headline the defensive core, although not the largest in the NCAA, they are one of more cohesive units in college hockey.
"We may have some growing pains in terms of scoring this year," Ferris State hockey head coach Bob Daniels said, "But I feel comfortable with the back end of the powerplay. I don't worry about them."
Offensively, the Bulldogs have to replace the productivity lost by graduated forwards Travis Ouellette and Kyle Bonis.
"I think guys this year are more prepared for the roles they will take part in on the team," Ferris senior forward Garrett Thompson said.
The Bulldogs return three of their top five scorers in seniors Garrett Thompson, Cory Kane and Justin DeMartino.
"Those guys know and have been ready for their roles. I think those three will step up big for us," Thompson said.
DeMartino missed time after a hot start to the 2012-13 campaign and was unable to regain his rhythm. He will be expected to produce at a higher level this season.
"I'd like to think [DeMartino] is good for 15 goals this year," Daniels said, "But he is coming off a shoulder surgery and is a little slow out of the gate. That's to be expected with a guy of his size."
In their inaugural WCHA campaign, the Bulldogs will join the 2012 CCHA members Alaska, Lake Superior State, Bowling Green and Northern Michigan.
While former major CCHA schools such as Michigan and Michigan State have left to play in their new conference, however, Ferris State won't miss the two this year.
The Bulldogs will travel to play at Michigan on Dec. 11 and finish out their 2013 set of games at Michigan State's Munn Arena on Dec. 14.
Ferris State's first set of games will take place at Colgate in Hamilton, New York on Oct. 5 and 6. Their home opener is against St. Lawrence on Oct. 18 at 7:07 p.m.