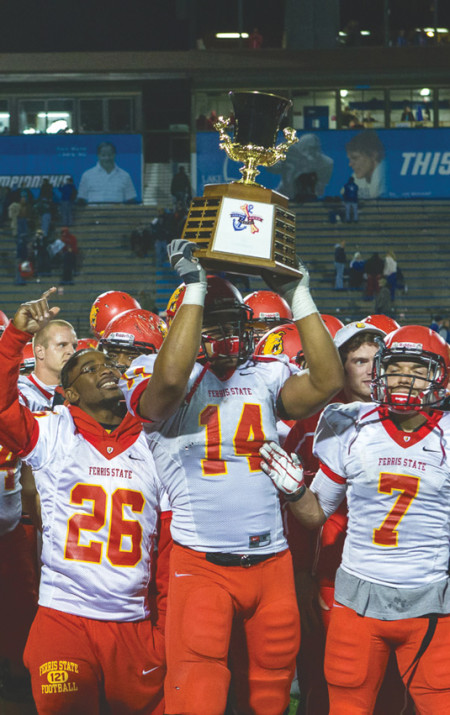 Ferris will battle Grand Valley at home for the Anchor-Bone trophy as the two rival teams continue to fight for GLIAC contention.
The football rivalry between Ferris State (3-2) and Grand Valley State (4-1) dates back to the 1970s, with GVSU holding a 27-13-1 record against the Bulldogs over that span. Even though Ferris won the contest last year, players know they will be in for a fight against the Lakers.
"The history from years before has made it the heated matchup it is today," redshirt freshman running back Kitwana Clark said. "I feel like it's the closest team we play, so it's like a backyard battle."
Clark will help contribute to a Ferris offense that, prior to their 31-28 homecoming loss to Saginaw Valley, has seen little resistance against their scoring attack.
The Bulldogs are 18th in the NCAA Division II rankings for total offense (507.3 yards per game), while the Lakers are ranked 42nd (454.5 yards per game).
Ferris' rush-first offense has been led by sophomore quarterback Jason Vander Laan, who leads all GLIAC quarterbacks in rushing yards and rushing touchdowns. The Bulldogs will need to put points up early and often if they plan to set the pace against Grand Valley's equally impressive offensive attack.
Defensively, the key to stopping the Lakers' attack is slowing down the tandem of GVSU junior running back Michael Ratay and junior quarterback Isaiah Grimes. Ratay leads GVSU's ground game with 500 rushing yards and nine touchdowns, while Grimes is second in the conference with 10.1 yards per passing attempt.
Ferris will need their defensive playmakers to have an impact if they hope to stop the Lakers' offense, one which scores an average of 34.8 points per game.
"We just need to keep playing aggressive like we have been playing," Ferris junior defensive end Carlton Johnson said. "We have to create turnovers to give our offense good field position, and we have to start fast and play with more urgency. Then we should win easily."
With the season nearing a midway point and the GLIAC North crown still up for grabs, both teams have their eyes set on the top spot in the division.  Look for the rivalry to be in full swing as the teams face off for the 42nd time.
"There is always a little more excitement for this game, but we have to approach every game the same way," Ferris junior cornerback A.J. McEwen said. "We have to get off to a much faster start this week. If we can do that, then we have a good chance to win."
Ferris will take on the Lakers at Top-Taggart Field Saturday, Oct. 12 with kickoff scheduled for 7 p.m.