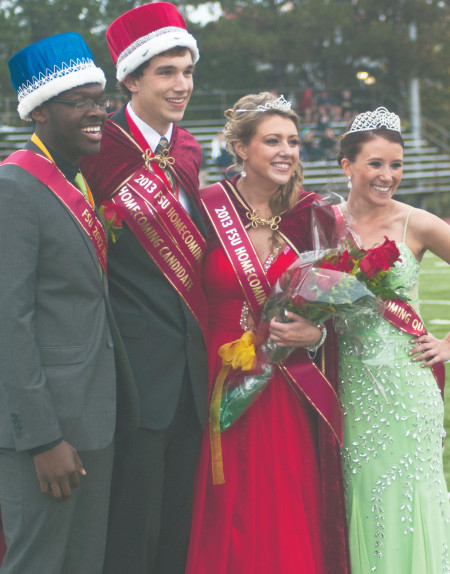 Ferris State University welcomed students, faculty and staff were home with a beach bash theme, despite the cold weather.
From Sept. 30 to Oct. 5, Ferris Homecoming 2013 held multiple events leading up to the homecoming football game where Ferris faced Saginaw Valley State University.
Ferris pre-optometry junior Amber Cumings was able to be a part of the homecoming parade , which took place on Saturday.
"There were a lot of people in town [for the parade] and this year I was with my club, Circle K, and we had a float and passed out flyers and candy," Cumings said. "It was a lot of fun."
On Monday night, a Lip Sync competition was held in Williams Auditorium. Members of fraternities and sororities pretended to sing popular beach- themed songs while dancing and putting on a show. Alpha Sigma Tau and Sigma Phi Epsilon won first place and the people's choice award, respectively.
"I went to the lip-syncing event, which was pretty fun," Ferris freshma in pre-pharmacy Breanna Sedlar said. "It was interesting."
On Tuesday night, students were e formed kickball teams and participated in the tournament against their peers.
"I was in the kickball event, which was pretty fun," Ferris pre-pharmacy freshman Andrew Zwerlein said. "We lost the first round, which was kind of heart breaking, but it was still fun."
Ferris Homecoming 2012 King and Queen Byron Williams and Avery Larson crowned the 2103 homecomroyalty, Ferris senior majoring in ornamental horticulture and business administration Kevin Bunce and Ferris senior majoring in pre-optometry Katie Rachon.
Other homecoming events included Bed Sheet Banner, a bonfire in Lot 61, NBC Stand-up Comedy Tour in Williams Auditorium and a 5k run.
"There was something for pretty much everyone," Sedlar said.