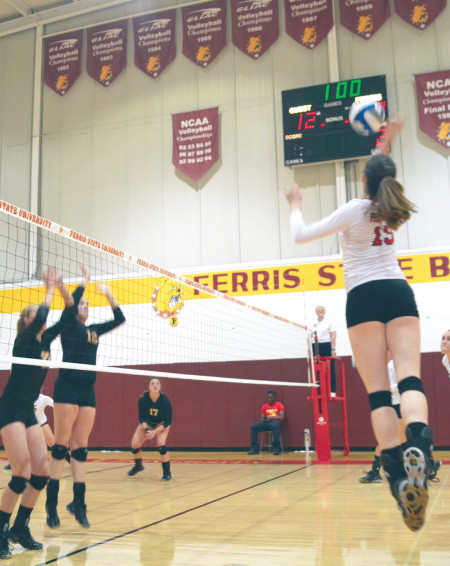 Ferris State women's volleyball has made it to their halfway mark leading in GLIAC (7-0) and keeping a strong overall record of 12-3.
The Bulldogs could not be more proud of their outstanding first half of the season by staying undefeated in GLIAC play.
"I feel we have done really, really well so far this season," Ferris junior outside hitter Courtney Rehm said. "Each game we become more and more confident in ourselves, which allows us to overcome several obstacles we were not able to overcome before."
Though the season has been a success to this point, they aren't without their flaws. Rehm is admittedly battling through an undisclosed injury that has hampered her ability to lead the team physically.
"Going through the first half of the season, the only thing I would want to change is to not be injured," said Rehm. "I am still able to play, but I have to be smart about what I do. I guess the best thing for me to do is to make sure I am taking care of my body so I can help support my team on the court rather than off for the rest of the season."
Taking into account the successful start to their season, the team agreed that they would not really want to change anything too drastic about what has already happened to them this season.
"Although I am a bit of a perfectionist, I also think that everything that has happened, happened for a reason," Ferris senior middle hitter Angi Kent said. "Since we are doing what we said we wanted to do, I would not change anything. Our journey has gotten us this far, so don't fix it if it is not broken."
The Bulldogs are not giving away any of their secrets about how they plan to continue their big winning streak, but they are all self-assured with their skills, which will help them on the back end of the 2013 season.
"Well since going down is not an option…we go up," said Kent. "Our coach always talks about how hard it is to defeat success. We will remain humble and thankful for the wins we have and we will continue our season."
The Bulldogs are the only team left in GLIAC that is undefeated, and they have no intentions of letting up on the torrid conference pace they have set.
"I am very confident in our team," Rehm said. "If we all put our abilities together and continue to work hard then there is nothing that we cannot accomplish. There is nothing we can change now, just a few tweaks. Now is the time to be perfect and that is what we plan on doing."
Ferris will face their next opponents this weekend with Ashland on Friday, Oct. 11, in Ashland, Ohio at 7 p.m. and Lake Erie on Saturday, Oct. 12, in Painesville, Ohio at 5 p.m.