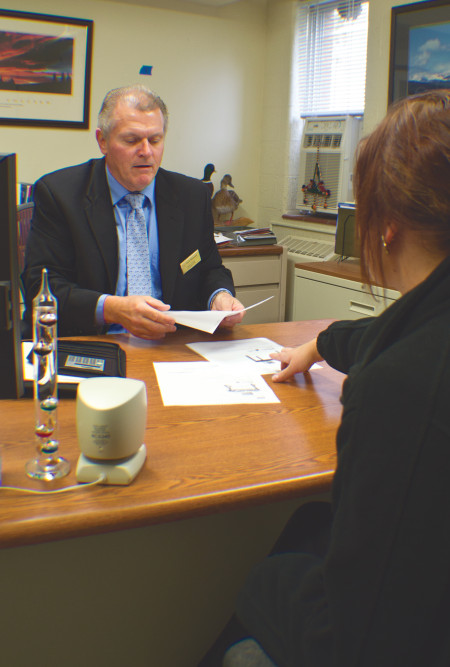 Ferris' new director of housing and resident life's first week on the job proved to be a challenging one with the campus-wide power outage. However, Bryan Marquardt was up for the test.
With help from the entire staff and other departments on campus, Marquardt and his new crew were able to make the best living and dining environment possible for the residents during the outage. Marquardt said the challenge demonstrated the great team in Housing and Residence Life.
The turn of the calendar to October marked Marquardt's first week in his new position. The opportunity arose when former director, Jon Schafer, took a job in Illinois last fall. James Hessler became the interim director during the transitional period. Marquardt felt his skills were well-matched for the position, so when the opening was posted on campus, he jumped at the opportunity.
"I feel I have the vision as the Director of Housing and Residence Life to enrich the student experience," Marquardt said. Students on campus are our guests and we need to enhance the quality of life and the residence experience for our guests."
The entire department welcomed him with open arms and he believes they all have the best interests of the students in mind.
Leaving behind his old associates at dining services was the hardest transition Marquardt said he had to deal with.
Marquardt has worked at Ferris for a total of 27 years. Since being here, he has seen many improvements to the university. He watched the FLITE library and the IRC connector being built and the Timme Center remodeled. The new Rock Cafe, optometry building and the IRC connector did not exist when he first came to Ferris. He's seen many other improvements, both structurally and academically, through his many years at Ferris.
"Working at Ferris has been nothing but positive," Marquardt said. "I have worked with many people during my years at Ferris State University and feel it is like a large family atmosphere; pulling together to reach a common goal which is to become a demonstrable center of excellence in education quality and student learning."
Marquardt has worn many hats since being at Ferris. He was the head coach for Ferris' club hockey team from 1988-95, once winning the ACHA National Championship. He was instrumental in bringing Starbucks to campus.
In 2012, Marquardt was awarded the "Distinguished Staff" award. In 2007, he was a member of the Westview team that received the "Distinguished Team" award.
In addition, he has coached local youth sports for the last 30 years.
Prior to moving his talents to Big Rapids, Marquardt worked at the University of Wisconsin-Stout for four years. While working there, he received his B.S. in hotel and restaurant management.
He's always known working at a university was what he wanted to do because he enjoyed working with the students, staff and the community.