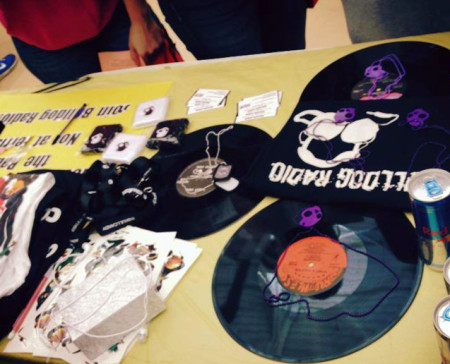 Although Ferris State University has a radio broadcast registered student organization (RSO), Bulldog Radio is sorely missing one seemingly essential thing: a radio station.
Bulldog Radio hasn't broadcast to an FM station since 1967, but a new petition to regain a radio station seeks to change that.
The petition to get Bulldog Radio has more than 3,750 signatures, well beyond the expectations of Jessica McLean, the president of Bulldog Radio, who said the initial goal was to gain one-thousand signatures.
"It's kind of amazing. I never imagined that people would be so supportive," McLean said. "Everybody we've talked to and everyone who has signed the petition has said it would be a great idea for both the student body and the community."
Jerry Wayne Newson, Bulldog Radio's station manager, had the initial idea to start a petition to regain a FM station. The petition takes up an unfathomable amount of paper, and Newson says collecting signatures the old-fashioned way is a better statement to how much the Ferris student body wants a radio station.
According to Newson, getting written signatures as opposed to online statements gives the petition intrinsic value.
"A lot of people have asked us 'why don't you do this online, it'd be so much easier,' but the thing is, having people sign it, doing the leg power gets people interested; it starts a conversation. It's also more effective to drop a stack of four-thousand signatures in front of the president than it would be to show him a website," Newson said.
The petition, which has been circulating for nearly a month now, will have averaged about one-thousand signatures per week, once it becomes time to present it to President Eisler. When they reach their goal, Bulldog Radio will present the signatures to both the president and the Ferris Board of Trustees.
Should they be approved, McLean hopes they could have the station up and broadcasting by the middle of next semester. The only thing standing in the way, beyond presenting the petition, is obtaining the broadcast license that will give them legal permission to broadcast on an FM frequency.
"I have plans within plans for this station," Newson said, "but all of that gets put on the backburner until we get that license. It's all about getting that license at the moment."
Both McLean and Newson have high hopes for the station once it begins broadcasting on the radio. McLean says she wants Bulldog Radio to be an opportunity for Ferris students to make their voice heard, as well as an exercise in teamwork for those who would work at the station.
"The DJs are free to adlib as they want. We'd cover sports, weather, and people from different
RSOs could come on and let people know about upcoming activities," McLean said. "It's been a dream of mine that we could even go so far as talk shows and do the morning news if we find students willing to."
Newson says that Bulldog Radio would give students options of what they want to hear. He says the monotony he perceives in the area's radio stations plays a big part in wanting to start up a student run radio station. He went on to share his desire to have a large variety of people working on it because he wants the radio to have multiple sources of input.
"I want to make it for Ferris State, not just for Bulldog Radio," Newson said. "I want to see it as a broadcast station. [Television and Digital Media Production] people could do it, I want sports broadcasters, programs from the International Office, from Music Industry Management, get more artists to contribute. Most colleges have that radio, and I want ours to be not so secular. Anybody can call in and hear anything."
Bulldog Radio currently broadcasts on television on Channel 22 on Ferris campus and Channel 98 throughout the rest of Big Rapids. Students interested in joining Bulldog Radio can attend meetings in FLITE 116 every Monday at 6:30 p.m.