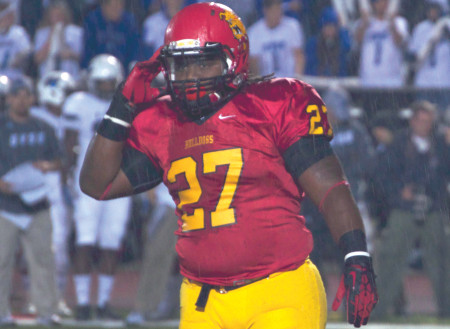 Junior running back Jamaal Jackson is making an impact for the Bulldogs despite having to fight for playing time.
Jackson, a junior in the nursing program, graduated from St. Joseph High School in 2010 prior to arriving at Ferris. In his time at St. Joseph, Jackson saw himself in the role of the feature back, compiling more than 1,500 rushing yards in his senior campaign alone.
Ferris offered Jackson a scholarship following his senior season and he jumped at the chance to be a Bulldog.
Jackson was red-shirted during the 2010 Ferris football season and went from being the number one running back to sitting on the sidelines his freshman year. This is a common transition for many college athletes coming out of high school, as this gives coaches another year to assess their talent.
The 2011 season saw Jackson break into a role with the Bulldogs' offense as he carried the ball 49 times for 288 yards and one touchdown. Catching coaches and teammates' eyes, Jackson won the team's "Newcomer Award," for his play on the field.
"He's helped in every single way the coach has asked," sophomore quarterback Jason Vander Laan said. "He's a great downhill back, and we are definitely trying to get him the ball more. Also, I have never played with a running back with the blocking capabilities he has in my life."
Jackson settled into his role as the power back, or "H-Back," in the 2012 season as his size, 5-foot-8-inches and 240 pounds, and powerful running style helped him tally 432 yards and five touchdowns through 11 games with two starts. Even though he saw success during his time on the field, Jackson still saw himself fighting for playing time.
"It's most definitely tough," Jackson said. "But, I just come here and do my job because I want to win. I don't really play this game for personal accolades. I want a ring, and that's why I play this game."
Through hard work and his unrelenting faith in God, Jackson came into the 2013 season ready to help his team in any way he can.
Jackson had a breakout performance against the Grand Valley State Lakers, rushing for 92 yards on 13 carries.
Even though he has had to work for his time on the field and has had success in his role in the offense, Jackson still stays humble about his performances and keeps the blue-collar outlook on football.
"I just try to go in and do my job and try to put the team in the best position to win, and I have to make sure that I don't cost the team," Jackson said. "You do the little things, and then the big things will take care of themselves."
As the season passes its midway point, Jackson will continue to work for his time on the field, hoping to help keep the Bulldogs in contention for the GLIAC title.